Fear God, Atiku urges leaders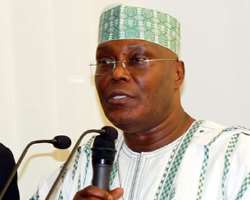 Former Vice President Atiku Abubakar has urged elective leaders and other public office holders to let the fear of God to guide their conducts.
In a Sallah message to mark the end of the 30-day Ramadan fasting period by the Muslim faithful, the former Vice President noted that the increasing greed and selfishness by leaders is compounding the challenges of poverty, unemployment and other social crises,  caused by bad leadership.
According to him, democracy is not meant for overnight personal enrichment at the expense of the voters. Instead, he said, democracy is meant to offer honest, patriotic and selfless service to Nigerians.
The former Vice President observed that there is a difference between external religiosity and what leaders do in practice.
He explained that if religion had any influence on the conduct of leaders, most of the problems confronting the ordinary people would have been solved.
Atiku regretted that oath taking had been reduced to mere empty ritual, thereby desecrating the sanctity of the exercise.
He recalled that in other societies, politicians seek power out of the passion to offer honest and patriotic service to fellow country men and women.
'In our own case however, leaders see politics as a gravy train, and with this culture, democracy cannot make any real positive impact on the lives of the ordinary people,' the former Vice President added further.
He warned that as long as politics is dominated by people who are motivated by personal material advancement, good governance would continue to suffer.
According to the Turakin Adamawa, the acceleration of poverty by corruption was not what the voters had bargained for, adding that after many years of military rule, elected leaders should have made a difference on the lives of Nigerians.