Shameful Deceit Goes On Tour In The UK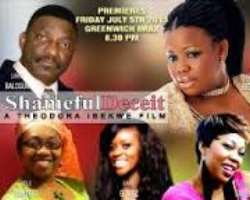 Following on from the extremely successful London Premieres and, due to popular demand, Shameful Deceit Movie is going on a tour of the UK, first stop will be Manchester.
Shameful Deceit is a story of family, adultery, fraud, abuse and retribution.
The film stars: Lanre Balogun, Theodora Ibekwe, Fatima Jabbe, Yvonne Hays, Moji Bamtefa, Marie Gomez, Ikenna Obi, Kevwe Ogunje, Adenike Akeju Osabutey, Collins Archie-Pearce, Atto Erick, Christianah Awotayo, Ene Oloye Gez, O'tega Oyovbaire, Eleanor Agala, Angel Agala, Jason Dear, Nnenna Ani, Taiwo Odebode, Tyna Sonuga, Margaret Opara, Uche Kay, George Kelly Toghanro, Stephen Hammond, Lola Ibekwe, Mohammed Sanneh, Samantha Russell, Jedidah David, Florence Okonkwo, Ayo Oyebade and, a host of others.
Come and meet some of the stars of the movie including Theodora Ibekwe and Kevwe Ogunje; along with the director, Ruke Amata, The Cinematographer Nelson Spyk and special guest star, Nollywood icon, Victoria Inyama-Okri, on the Red Carpet.
Venue: Methodist Central Hall, Oldham Street, Manchester M1 1JT
Date: 24th August 2013
Red carpet is between 7pm and 8pm, screening of the film from 8.30pm-10pm.