PDP Gets Go-Ahead To Hold Special Convention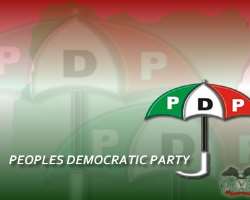 SAN FRANCISCO, August 02, (THEWILL) – The ruling Peoples Democratic Party (PDP) has been given the go-ahead to organise its special convention to elect new officers into its National Working Committee (NWC).
On Friday, an Abuja High Court presided by Justice Suleiman Belgore vacated an earlier order restraining the party from going ahead with the convention as the court practically gave the go-ahead for the party to hold the convention.
The new development was predicated on the withdrawal of the suit filed by the three aggrieved PDP members - Abba Yale,Alh. Yahaya Sule and Bashir Maigudu, challenging the composition of the party's NWC.
It would be recalled that the court had on July 25 restrained the party from conducting the convention "whether special or ordinary," for the purpose of electing any officer into the office of the PDP pending the determination of the suit by the aggrieved members of the party.
But while moving the application for the withdrawal of the suit, the plaintiffs' lawyer, Friday Nwosu, said his client had decided to explore the party's internal mechanism in addressing their grievances.
He stressed that they had resolved to withdraw their case and table their grievances before the party's National Reconciliation Committee headed by Bayelsa State governor, Seriake Dickson.
Nwosu therefore prayed the court to strike out the plaintiffs' case.
Lawyers to the defendants (PDP and its National Chairman, Bamanga Tukur), Tobechukwu Nweke and Raphael Oluyede respectively, did not object to the plaintiffs' decision to withdraw their case.
They however urged the court to dismiss the case rather than strike it out.
In his ruling , Justice Belgore said he was satisfied with the application for withdrawal and all the necessary accompanying documents filed by the plaintiffs.
He therefore held that the application, having been brought under Order 27 Rule 3 of the court's Civil Procedure Rules 2004 the court was left with no option than to allow the withdrawal.
The judge, though struck out the case, did not dismiss it on the ground that no major steps had been taken in respect of the substantive suit.
"The suit is struck out. The earlier order restraining the defendants from holding any convention is vacated.
That order is now discharged, as it crumbles with the striking out of the suit," the judge held.
However, he frowned at the decision by Nwosu to petition the court's Chief Judge, complaining of experiencing difficulty in withdrawing the case.
Justice Belgore said it was wrong for Nwosu to have written such petition even before his withdrawal application was brought before the court.