A Servant Of God Without Criticism Cannot Make Progress In Life—Pastor Akatakpo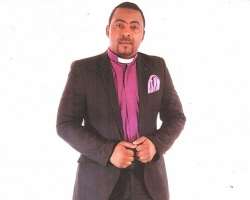 Pastor Blessing Samuel Akatakpo is the General Overseer of Royal Place Ministry international. He is a trained economist to the core. He is a motivational speaker and marriage counselor. He has travelled far and wide in preaching the gospel of Jesus Christ in both Nigeria and Abroad.
He is a man of God who has suffered destructive criticisms in carrying out the gospel of Christ in Ajegunle and was able to overcome the shackles of poverty to heavenly blessed destiny. He is one of the Ajegunle pastors that has demonstrated genuine love for his Assistant pastor by giving him a car without regret. He practices what he preaches in his ordained pulpit. In this interview with Godday Odidi, he briefly explained why many people in Ajegunle criticized his ministry and hairstyle and other sundry issues.
Excerpts:
Can we meet you sir?
I am Pastor Blessing Samuel Akatakpo and the General Overseer of Royal Place Ministry international. I am from Urhobo extraction in Delta State. I attended Ojoku High school and later proceeded to Delta State University Abraka where I read BSc Economics and went to Word Bible Faith Institute to bag a theological certificate and also had a BSc in Theology in order to equip my ministerial calling. I also had several ministerial trainings with great men of God in Nigeria.
How did you become a servant of God?
I actually got born-again in Bible Life Church of Professor- Bishop Leonard Umunna. Thereafter, I left Bible Life Church to join Image Bible church and church of God Mission Assembly where I was Assistant pastor for few years. I started an Outreach Ministry that later manifested into full gospel ministry through the confirmation of Jesus Christ.
My Assistant Pastor Mike and others started with me despite the great crisis that rocked the ministry but some still believed in my vision and stood by me in all odds. God used me to heal many dejected souls which I led to Christ. One of the wonderful miracles that brought me to limelight in the gospel of Christ in Ajegunle. I actually lived in a slum. Gospel of Christ is not meant for lazy people but people with determination in life.
Many have alleged that you are a homeboy pastor, do you agree to it?
Even Jesus Christ was criticized let alone me. I don't subscribe to religious criticisms in my life. Many people within the Christian circle have labeled as a world pastor and said many nefarious things against me with my hairstyle but I am still growing in the lord. Those are enemies of progress. Any man that wants progress must not allow criticism to mar his vision in life. If you know why god calls you, then you must not allow religious distractors to prevent your amiable growing future.
Most Ajegunle pastors are religious biased in the sense that they do not promote themselves within than outsiders. That why only few Ajegunle pastors are doing well in the ministry. If you compare Ajegunle pastors outside, you will discover that we haven't started yet, only God will help us if we cooperate with one and another. Most big time Ajegunle pastors are not ready to promote younger pastors after them and not ready to invite them to mount their pulpits. If I invite you in my ministry in Ajegunle twice and you fail to invite me too.
I would invite you anymore. Ministry is all about love and oneness not competition in the pulpit. It is not arrogance but we must put things right. Some Ajegunle pastors are better off than some Nigerian notable pastors. Ajegunle is a fertile land to grow a God's own ministry and nothing else.
Does your Ministry have a branch?
By grace of God, I am planning to open my first branch in South Africa. I am not too keen about ministerial branches but how to affect people lives positively that would make heaven through the undiluted word of God from me.
Who is your mentor in the Ministry?
Bishop Chris Matthew and Rev Thompson, the USA based Holy Ghost preacher. My mentors are living by their word of God not by men
Why are you hosting praise and worship or praise and comedy concert in Ajegunle?
God gave me that mandate to host this great programme. I started this praise and comedy concert last April 21st this year and God came down for that programme. It is all about exposing and developing young talents for Christ in Ajegunle. We want to host another praise and comedy concert on 1st October this year again with great guest speakers across Nigeria and Abroad.
What is your major challenge in ministry?
I have told you earlier that my intimate friends betrayed me and others but I have forgiven them. But with God on my side, I was able to surmount the device of the devil in my life. A servant of God without criticism cannot make progress in life. Criticism makes someone to improve in life and nothing else.
What is the secret of your success in the ministry?
To be the glory, I will be getting married this year. Sacrifice and obedience are my secrets of success in the ministry. I am not moved by tongue-lash critics.
What is your advice for young ministers of God in Nigeria?
Every young ministers of God must stay focused in his or her calling. You must not allow religious distractors to triumph over your life.
Pastor Akatakpo