New Report: 700 civilians died of starvation due to Kismayo phone suspensions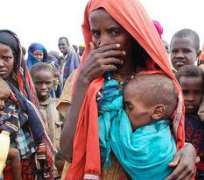 A new UN report about the humanitarian situation in Kismayo gives an alarming description of how the suspension of telephone services in Kismayo by Kenyan forces and their Ras Kamboni allies led to the deaths of more than 700 civilians, mostly Internally Displaced People (IDPs).
The report states that Kismayo residents use mobile-based money transfer technology to receive and save money from all sources including relatives abroad and humanitarian organizations. The United Nations alone reported to assisting 18,800 IDPs including 14,900 women and 3,700 elderly men. That project alone distributed $150 to each beneficiary to help them expand their livelihood options. With no physical cash transfers, the project was expected to reduce the risk of money being stolen.
Unfortunately, the Kenyan forces and their clan-based militia turned the project into a death sentence for hundreds of IDPs when they suspended telephone services for extended periods. One incident referred to by the report occurred during the discredited Jubbaland convention when telephone service was out for more than a month.
Amina Jama, a 35-year-old mother of six who cared for her disabled father used the money to buy prescription medicines and food items for her ailing father. She told the UN monitors that her father died because her money sat in her phone and she had no other means of buying necessary medicines and foods for him. Another woman, Khadija Farah, a 29-year old widow said, 'The only income I had was the assistance I received in my phone. Since I could not access my money, I lost my youngest son.'
This report comes at a time when Kenyan forces and allied clan milita had perpetuated human rights abuses against civilians in Kismayo. In June 2013, more than 120 people were killed and over 400 were wounded. The situation in Kismayo continues to detoriarate with the Somali Government and UN agencies virtually absent due to Kenyan harassment.