Anglican Primate, Okoh, Commends Civilian JTF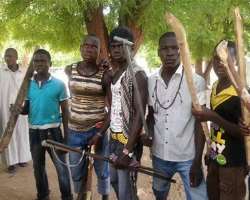 ... Calls for strategy to gainfully engage the youths
SAN FRANCISCO, July 31, (THEWILL) – The Primate of the Church of Nigeria (Anglican Communion), Most Reverend Nicholas Okoh, on Wednesday, commended the youth vigilante group, popularly called Civilian JTF, for assisting the security in smoking out Boko Haram members from Borno State.
Describing the emergence of the group as a miracle brought about by the cries of the faithful, the cleric, who was on a solidarity visit to Borno State with 14 other ArchBishops, said the gallantry of the youth group should be supported by all.
He however advised the State Government to map out a strategy to gainfully engage the youths so as to become useful to themselves and the society.
Welcoming Rev. Okoh to the state, Archbishop Emmanuel Kana Mani, said the impact of the youth vigilante group came at a very important time when most churches outside the state capital, Maiduguri, were shut down due to frequent attacks which led to the killing of many Christians.
Maintaining that though the effect of the Boko Haram crisis is "shocking, traumatising, bitter and painful", he urged Christians not to take the law into their hands by attempting to avenge the death of their loved ones, saying " vengeance is mine says the Lord."
The visiting head of the Anglican Church in Nigeria promised that the Anglican Communion "will collaborate with the Pentecostal Fellowship of Nigeria to rehabilitate orphans and widows as well as provide succour to alleviate sufferings of those bereaved."
He also made a donation of N1.5million to the Borno State chapter of the Christian Association of Nigeria (CAN) to enable them carry out their programmes.