Imo State Chief Judge And The Press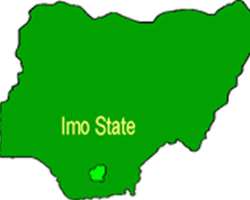 I read with dismay the letter written by  the Chief Judge of Imo  State, Honourable Justice Benjamin Ahanonu Njemanze via his solicitor Prof F.C Dike( SAN) of  Nnaji  Dike Chambers  threatening  libel suit against Emperor Iwuala and two media houses based in Owerri  (Trumpeta Newspaper  and Nigerian Newspoint Newspaper ) over  Iwuala's article 'the controversial appointment of Magistrates in Imo Judiciary' which Njemanze  see as  libelous. Iwuala  is a newspaper columnist  like me though I don't  agree with  some of his views . Justice Njemanze  on his part is a man I respect greatly but I am against him in this his fight against the press . I am against him because when a man is placed in the public arena he must be prepared to accept public criticism. Njemanze 's libel lawsuit against the press undermines  Governor Okorocha's   commitment to press freedom  and mar his (Njemanze's ) international image.
Governor Okorocha has publicly subscribed to a vision in which press freedom is respected in Imo State and Justice Njemanze's action which   reminds us of the dark days of military jackboot absolutism should be condemned by all. What Njemanze should have done is to take the criticism of Iwuala  as a challenge to put more effort in his work  as a public officer  or  write a rejoinder in response to  the article but he chose to throw caution to the wind .Imo State cannot move forward  unless its media can report freely on issues of state and  national importance. We say No to any attempt to muzzle press freedom in Imo state.
Section 22 of the 1999 Nigerian  constitution  empowers a media worker like Iwuala   to demand responsibility and accountability of the government to the people. The press is there to watch the excesses of any government anywhere in the world. The press is the guardian of the people as the fourth estate of the realm. Intimidating critics for demanding good service from a public servant violates Nigerian constitution and international norms on freedom of expression. 1999 Nigerian constitution in section 24 pointed out  that the duty of every citizen is to make positive and useful contribution to the advancement, progress and well-being of the community where he resides. The right to freedom of expression is recognized as a human right under Article 19 of the Universal Declaration of Human Rights and recognized in international human rights law in the International Covenant on Civil and Political Rights (ICCPR).
Now ,what is libel?  Libel by definition is published information against someone that is false. Did Iwuala Speak falsely in his article?  The Nigerian Bar Association (NBA) Owerri Branch  has joined   Iwuala to condemn  the way new magistrates were appointed in Imo State. This was contained in the report of the Sub-Committee of NBA Owerri that reviewed the appointment of new magistrates in Imo State Judiciary. The sub -committee we know was headed by Chief Mike Ahamba (SAN). Anything that is proved to be true cannot be libelous. Since libel by definition is falsehood against a person, do we consider a report of  something that is true by a journalist  to be  libelous?
Truth is the reporter's best defense against a libel. We also have what we call fair comment and criticism which covers a journalist. The fair comment and criticism defense allows reporters to express opinions no matter how scathing or critical. Justice Njemanze as a public official and public figure should prove to us that Iwuala's allegation that he (Njemanze) unjustly appointed magistrates in the state   was false and that it was published with something called actual malice. Actual malice means that the story was published with the knowledge that it was false or that the story was published with reckless disregard of whether or not it was false.
Fighting Iwuala is an attempt to  deny  a  media man  the  fundamental right to protest against unpopular and anti-peoples ' policies. Justice  Njemanze  by this threat to sue the media has  moved against free speech in Imo State. It is an  indicator that  he has no respect for press freedom. His attempt will not succeed and his excuses will  not stand the test of the  law, the test of decency, nor the test of time. We say No to press intimidation. Intimidation cannot frighten the press away from the truth.
We say NO to human rights violation by those in authority and their agents. It is ridiculous that while some  judicial officers who are expected to be above board perpetrate brazen corruption are allowed to live like kings, activists and media men  who are demanding sanity are threatened with lawsuits and  dungeons of intimidation and repression. This again shows that despite the so-called emergence of civilian rule since 1999 and despite the struggle of the working and poor masses against dictatorship and for good governance, some  public office holding vampires who never contributed to the termination of military dictatorship are the ones throwing the masses to the  gallows. That we are still witnessing a clear attack on the media  in this country as clearly displayed by Justice Njemanze is a sign of bad omen for the poor working masses of Nigeria.
Any bad policy of the government is antithetical to the interest of the poor masses and as such any protest against such policy by the media is a protection of the people's interest as envisaged and guaranteed by the Nigerian constitution.The right to speak  against the bad policies of any government is an inalienable right, which no court of the land can take away.We say NO  to any fight against the press. Some Nigerians  fought and died to protect our unique right of press freedom. We can't and we won't forget that. To be a journalist is not only a great responsibility, but also a high  honour and not  a high crime. I call on Imolites to reject the political repression against the media by Justice Njemanze. I call on Imolites  to demand the total withdrawal of all trumped-up political motivated lawsuit leveled against the Trumpeta and the Nigerian Newspoint Newspaper in Imo State . I call on the Imo  judiciary not to allow itself to be used by temporary power holders to unjustly victimize the press. The people are watching.
-Kenneth Uwadi, Mmahu-Egbema,Imo State,Nigeria
 
.


Disclaimer:

"The views/contents expressed in this article are the sole responsibility of the author(s) and do not necessarily reflect those of The Nigerian Voice. The Nigerian Voice will not be responsible or liable for any inaccurate or incorrect statements contained in this article."