2015: INEC registers APC as political party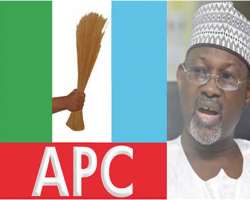 Nigeria's electoral agency on Wednesday approved the merger of three leading opposition parties ahead of presidential polls in 2015, potentially setting up a stiff challenge to the ruling party.
The electoral commission said the Action Congress of Nigeria (ACN), All Nigeria Peoples Party (ANPP) and Congress for Progressive Change (CPC) would now be known as the All Progressives Congress (APC).
It said the three parties 'have met all statutory requirements for the merger, and has accordingly granted their request.'
The parties have been plotting the merger for months in a bid to win power from President Goodluck Jonathan's Peoples Democratic Party. Jonathan is expected to seek another term in the 2015 vote, though he has not announced his intentions.
Previous attempts to rally the opposition against the PDP, which has won every presidential vote since a return to civilian rule in 1999, have failed amid infighting.
Picking a presidential ticket could prove to be a challenge for the opposition alliance, with its membership including a collection of varying interests.
While the PDP has controlled the presidency, opposition parties have had success on the state level in Nigeria, which includes 36 states.
The ACN, the biggest party in the merger, controls most of the southwest, including the economic capital Lagos.
Previous votes in Nigeria, Africa's most populous country, have been marred by violence and irregularities, but the 2011 poll won by Jonathan was seen as a major improvement. AFP