APC Must Restructure Its National Hierarchy To Reflect Federal Character: Says HURIWA
And Welcomes APC Registration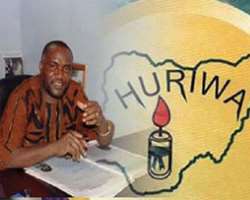 HUMAN RIGHTS WRITERS ASSOCITION OF NIGERIA [HURIWA] welcomes the registration of the three merging opposition political platforms that have metamorphosed into Al Progressive Congress [APC] by the Independent National Electoral Commission[INEC] and hereby restate our earlier charge on the members of the nascent opposition political stronghold to see the entire Nigeria as its constituency which means that the new party must vigorously work to establish its presence in all parts of Nigeria even as the major national offices of this party must not be skewed to favor any religious groupings of geo-political zones but must be structured in such a way as to have fair and equal representation of al strands of opinion.
APC as currently registered must restructure its national hierarchy because as it is only one religious group picked the dominant and most important offices which is against federal character that is fundamentally enshrined in our constitution. We in the organized civil society community and especially those of use endowed with the profound talents to write as members of the forth estate of the realm, we will keep all political parties on their toes so that the PUBLIC GOOD AND PUBLIC INTEREST of corporate Nigeria is served.
We also wish to appeal to the newly registered political party to work out and publish blueprint for ending the vicious circle of violent crimes; mass poverty; mass illiteracy and total break down of basic infrastructure in all parts of Nigeria since all the ruling parties at both the national and state levels have failed spectacularly to live up to the general expectation of all Nigerians.
Transparency and zero-tolerance to corruption and economic crimes should also be their hallmark as a political platform that will seek the mandate of all Nigerians come 2015. Nigeria is a nation weighed down by corruption and poverty and so the newly registered political party should emphasize the restructuring of the two anti-graft agencies and the Nigerian Police and should also tell Nigerians how they intend to arrest the insecurity of lives and property that have afflicted Nigeria and Nigerians in the last 14 years.
The new party must bring to the table its agenda for constitutional amendment now to recognize local government autonomy because as it is most Nigerians see many elements within this party that are inherently opposed to local government autonomy and also state police even when they are well aware that both the local government as a tier of government and the Nigerian Police Force as the apex law enforcement institution in Nigeria has failed in their constitutional duty and the local governments have been hijacked by the state governors who run them as their personal assets thereby denying Nigerians the democracy dividends.
APC indeed has its work cut out clearly and it should hit the ground running to give Nigerians qualitative and professionally run opposition politics devoid of acrimony and mudslinging.
COMRADE EMMANUEL ONWUBIKO; NATIONAL COORDINATOR; HUMAN RIGHTS WRITERS ASSOCIATION OF NIGERIA [HURIWA].
A MEDIA STATEMENT ON THE REGISTRATION OF APC BY INEC.