Polio: Dankwambo Tasks Wife To Mobilize Women For Immunization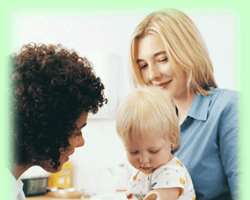 Following the re-emergence of the wikd polio virus in Gombe State after foyr years of complete absence, Gov. Ibrahim Hassan Dankwambo has tasked his wife and Firdt lady of the srsre , Hajiya Adama Ibrahim Hassan Dankwambo, to use her influence and mobilize women to meet immunizstion targets.
The governor gave the charge while inaugurating the Srate Task Force on Immunization and strengthening of Primary Heathcare jn the state with a call on the chairperson of the committee who is also the Firdt Lady to do all within her abiity to Mobilize the entie state to meet subsewurnt immunization exercises.
"Although Gombe State has made remarkable progress in polio eradication , as evidenced in the absence of wild polio virus for almost four years, the state was regretably re-infected with wild polio virus type1 in the first and second quarter of 2013", he said,
He charged the 20-man task force cimmittee which has Mr. Nuhu Kumangh, Director of PHC in the state Ministry of Health as Secretary to evolve strategies for ensuring this does not happen again stressing that " you should also come up with innovative wsys of ensuring that every child born in Gombe State gets fulky immunized before the age of one".
Dankwambo said in an effort to reduce the maternal, newborn and child mortality inthe state and also to imorove orimsry healthcare delivery service, he had assented to the enabling law for the establishment of a State Primary Heathcare DevelopmentnAgency.
The governor who directed all local government councils to immediately establish similar committes in their resoective LGA's as well as ward levels stated that the improving the performance of the Primary Heathcare Centres is a collective responsibility of the state , local governments and communities.
Responfing, the chairoerson of the committee described polio eradication as a major challenge but exoressed confidence that the committee would achieve its nine point mandste with the calibre of members in the committee.