Whither Lagos State's Hubris, Brigandage And Scofflaw Methods?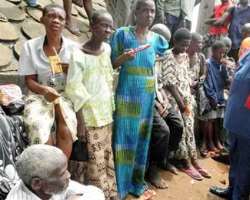 For the second time in nine months, the Lagos State authorities have resorted to the most egregious and unconstitutional means in addressing its domestic quality of life problems – the forced deportation of Nigerians in Nigeria.
For some inexplicable reasons, it has targeted Anambra State as its dumping ground. On 24 July 2013, the Lagos State Government again, just as it did last September, rounded up seventy-two Nigerians, whom it believed were of Igbo extraction and Anambra indigenes and deported them forcefully to the commercial city of Onitsha. On investigation, it was discovered that a majority of the deportees were not from Anambra, nor of Igbo extraction. Since January 2013, Lagos State has reportedly deported over 1,708 non-indigenes under similar pretences.
The most vexatious aspect of this act is that the Lagos authorities did not consult with its Anambra State counterparts, or contact the Anambra Liaison office in Lagos, assuming its intention were authentic. But there were other violations that made such an action utterly illegal, even if they were presumably in Lagos State's enlightened self-interest.
Bluntly, what the Babatunde Fashola Administration did amounted to wilful, illegal and unconstitutional act as well as a blatant violation of the human rights of these individuals and of the Nigerian Constitution. As a matter of fact, Nigerians cannot be refugees in their own country; but even refugees have rights, which are equally protected by the law.
Even if one were to assume that those Nigerians rounded up in Lagos State, were miscreants, social misfits, indigent beggars or lunatics; their rights were still protected by national and international laws. Indubitably, no degree criminal offence by these people, even if in the extreme, would have justified such cruel and unjust action by a constituted State authority and in our nascent democracy.
Lagos State prides itself as a cosmopolitan fulcrum for all ethnicities and visitors. It has and continues to benefit from the sojourn of millions of non-Lagosians and non-Yorubas. Being such a melting pot for all comers has its privileges and disadvantages. Still, any disadvantage, no matter how disconcerting and how bothersome, could hardly be an excuse for wilfully flouting national laws.
The hue and cry over this unwholesome policy, led Lagos State Special Adviser on Youth and Social Development Mr. Enitan Badru, to acknowledge that the state had taken such drastic measures in a bid to rid its streets of beggars and the mentally challenged.
What begs the question is the explanation attributed to Mr. Badru. "We are not repatriating them from Lagos; we are reuniting them with their families. Because once we rescue them,we cannot as a government, hold a child under the age of eighteen in custody without parental or guardians' consent." Such an explanation is spurious, considering that those deported last September to Anambra were mostly able-bodied youths. Moreover, Lagos State authorities never contacted the Anambra Ministry of Youths and Sports on this matter, not now and not in September.
The truth be told, Lagos State authorities could hardly be oblivious of the extant provisions of the Nigerian Constitution which states: "Every citizen of Nigeria is entitled to move freely throughout Nigeria and to reside in any part, thereof, and no citizen shall be expelled from Nigeria or refused entry thereby or exit therefrom". To know the law and flout it, smacks of impunity; and to plead ignorance of the law could hardly be a legitimate excuse in the present circumstance. The question then is; whither Lagos State with its hubris, brigandage and scofflaw methods?
Nigeria has enough problems and social challenges, as things are. Solving them will always be a shared responsibility. However, forced deportation such as this, which Lagos State seems to be making a norm in addressing its domestic challenges are egregious, and calls into question the validity of Nigeria and its federating components. Such acts violate human decency, the rule of law and constitutionally ordered liberties. They should not be condoned.
Actions of Lagos State are well beyond happenstance or coincidence. To us in Anambra, they amount to adversarial policy action. After all, intolerance and xenophobia could never be justified, no matter what. Were Anambra and other States in the federation to resort to such extreme measures, and deport all sorts of spivs and reprobate to Lagos State, there would be total anarchy. Wherewithal and might are not synonymous with right or rights. This toxic public policy that Lagos is promoting should be resisted in the national interest.
In the present circumstance, this wanton act by Lagos has happened once too many. In seeking an enduring solution, it would indeed amount to complicity on the part of the states and the federal government, if these deportations are not thoroughly and immediately investigated by the Attorney-General of the Federation and Lagos censured. The Anambra State government will accept nothing less and will be making a demarche to the Presidency on the matter.
For avoidance of doubt, Anambra State Government has the statutory obligation to protect the interest and welfare of Anambra indigenes anywhere. Such an obligation may even entail reciprocity or reprisals in situations such as these. Certainly, as strategically positioned as Lagos is, such status does not confer on it the prerogative of being a scofflaw. That is an incontrovertible fact. Then, also, is that fact that our civility is not weakness.
___________
Mr. Oseloka H. Obaze is Secretary to the Anambra State Government
DESTITUTES10
Disclaimer:

"The views/contents expressed in this article are the sole responsibility of the author(s) and do not necessarily reflect those of The Nigerian Voice. The Nigerian Voice will not be responsible or liable for any inaccurate or incorrect statements contained in this article."