EFCC Advocates Psychiatric Test for Public Officers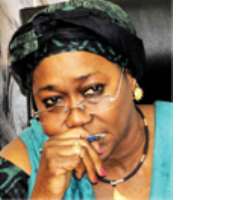 A new twist has been embraced into the statutory functions of EFCC just as the Chairman of the Commission, Mrs. Farida Waziri in her keynote address at a workshop in Kaduna on Transparency and Accountability in the Public Service, called for psychiatric evaluation for aspiring individuals, to determine their suitability for public office.This was contained in a press release made available to huhuonline.com by the Commission's Head of Media Publicity, Mr. Femi Babafemi.
The Press release reads:
''Ahead of political contests in 2011, Chairman of the Economic and Financial Crimes Commission, EFCC, Mrs. Farida Waziri has called for psychiatric evaluation of public office aspirants to determine their level of suitability.
''Waziri made the call on Monday in Kaduna while delivering the keynote address at a workshop on Transparency and Accountability in the public service. According to her "having dealt with many corruption cases, I am inclined to suggest that public officers should be subjected to some form of psychiatric evaluation to determine their suitability for public office.
"The extent of aggrandizement and gluttonous accumulation of wealth that I have observed suggests to me that some people are mentally and psychologically unsuitable for public office. We have observed people amassing public wealth to a point suggesting "madness" or some form of obsessive- compulsive psychiatric disorder."
In her address entitled: Transparency and Accountability in Public Service. The Role of Anti- Corruption Agencies, Mrs. Waziri said the culture of accountability can only be entrenched in public service if needed legislations are passed into law.
"As you may all know the struggle has been on to get the freedom of information (FOI) bill passed into law? Closely related to this the bid to have a whistle blower acct passed into law. Let me emphasize that the future of the anti- corruption war may depend on what happens to these efforts.
If we truly expect a public service that is accountable to people of Nigeria, then the Freedom of Information Bill must be passed. If you deny the public the right to know, the anti- corruption war is lost, "she stated.
While calling for collaboration among the various anti-graft agencies in the country, the EFCC Chairman said that "When these agencies work together, they are potentially capable of creating an environment which could make corruption a very hazardous affair for a public officer."
She appealed to Nigerians to take ownership of the war against corruption adding that it is only through their active involvement that the nation could be saved from the crushing effect of the menace. "When I launched the Anti-CORRUPTION Revolution (ANCHOR), Skeptics thought it was just another Jamboree. But I think the crisis rocking the banking sector has justified our efforts. Were it not for the swift intervention of the central bank and the EFCC, we were surely leading for a crash that would have rubbished our financial system along with your money; your pensions. You cannot afford to be neutral in this war. make it your war'', Wariri urged.
She tasked organizers of the workshop especially the Kaduna State Government, to take a step further by creating anti- corruption watchdog in the state public service that could work closely with the EFCC on information and intelligence gathering, budget tracking and project implementation, grassroots ant-corruption mobilization, anti-corruption education and awareness as well as whistle blower activity among others.
The workshop which was well attended attracted important dignitaries within and outside the state such as the former chief justice of Nigeria, Justice Mohammed Uwais, as Chairman, Emir of Zazzau, Dr Shehu Idris and the State deputy governor, Mr. Patrick Yakowa among others.
|
Article source