Mark Intervenes in FCT, IBB Golf Club Feud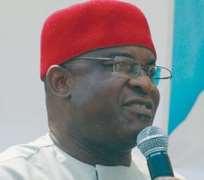 Senate, Senator David Mark, has waded into the face-off between the Federal Capital Territory Administration Minister, Senator Bala Mohammed and the management of the IBB International golf and country club over issuance of certificate of occupancy (C of O).
The FCT administration had reportedly asked the club to pay N255 million for C of O to legalize its property. The club, on the other hand, maintained that as a recreational facility, it should not be required to obtain a C of O.
A statement by Mark's Chief Press Secretary (CPS), Mr. Paul Mumeh, said the club's captain, Mr. Debo Olateju, had appealed to his boss to intervene.
According to the statement, the club's captain had told Mark, "an avid golfer,"  that, from inception, the FCT administration  issued them with Right of Occupancy (R of O) instead of C of O.
"The Senate President promised to look into the matter with a view to addressing the matter, (and) charged the new executive of the club to bring in new ideas that would further promote the club," he added.