Ondo Exco Sends New Criminal Justice Law To Assembly For Approval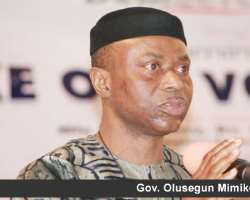 The  Ondo State Executive Council  has forwarded a bill to the state's Assembly,  seeking to  change criminal justice procedure operational in the state to make it  conform with the best practices and reposition its administration of  Criminal Justice  through an institutionalise legal framework.
The state's Commissioner for Information Mr Kayode Akinmade in a statement in Akure on Tuesday said the state executive council  approved and forwarded the new bill "that will radically change criminal justice procedure in the state to the state's legislators for legal backing."
Akinmade said the new bill seeks to repeal the old criminal procedure operating in the  State.
'The Ondo State Executive Council  has approved  a new bill on the administration of Criminal  Justice in the state following the submission of same by a Technical Committee engaged to review the existing law guiding the dispensation of Criminal justice in the state' the  statement read.
The committee was headed by Justice Kolawole and Professor Yemi Akinseye George in collaboration with the Justice Development and Peace Commission of the Ondo Catholic Diocese.
Akinmade said the new law is to ensure conformity with constitutional standards and practices as it relates to criminal justice matters, adding that 'the primary purpose of this law is to ensure that the system of administration of Criminal Justice promotes the speedy dispensation of justice, protection of the society from crime, protection of the rights and interests of the defendant and the victim'
To this end, Akinmade said, the new bill, among others, seek to make humane treatment of arrested person, declaring that any person arrested shall be accorded humane treatment, having regard to his right, and to the dignity of his person.
In the new law he also mentioned, Magistrates 'shall at least every month, conduct an inspection of Police stations or other places of detention within his territorial jurisdiction other than the prison during which the Magistrate shall have the power to call for and inspect the record of arrest, review and modify bail decisions by the police.'
The bill, the Commissioner further mentioned has provision for plea bargain and conditions under which such could be exercised.
Also in the bill, he said, the Attorney General can file information on Criminal charges directly to the court without prior consent of the Chief Judge or Judges of the High Court.
Akinmade explained that 'these provisions in the bill are expected to prevent time wasting and accelerate court processes as well as decongest various detention centres in the state among other merits'.