Tension In Okorocha's Camp Over Award To Ex- Commissioners, Other Appointees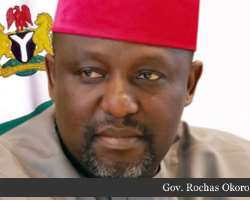 Tension is gradually building in the camp of Imo state governor, Owelle Rochas Okorocha over the recent award he gave some of the former
commissioners and other political appointees who served in the disbanded state executive council.
Okorocha recently dished out awards to his former Commissioner for Information, Mr. Chinedu Offor and Ichie Uche Best Mbanasor who headed the Commerce and Industry Ministry.
Others who received awards are Uche Nwosu who is the governor's son in law and former Commissioner for Lands, Housing and Urban Development; Nkiru Sylvanus, former SA on Public Affairs; Engr. Peter Ohagwa, former SA on Peace and Conflict Resolution; Chief Ben Udensi, former SA on Poverty Alleviation; Hon. Amaechi Nwaoha who serves as former SA on Legislative Matters and Mrs Ogechi Ololo who was the former SA on Domestic Affairs.
Pointblanknews.com gathered that the governor's announcement at the ceremony stating that the awardees have been reappointed into the state
executive council appears to be the bone of contention.
'Most of the people think that by dancing around the governor or showing their faces around every morning to sing my praises will excite and earn
them a place. But we have shown Imo people what leadership is all about,' Okorocha said at the ceremony.
A cross section of the former political appointees and associates of the governor have continued to condemn the award, stressing it served no
purpose as some of the awardees did not merit the award  having not recorded any notable achievement while in office.
A former Commissioner who spoke to Pointblanknews.com under the condition of anonymity stated by the award did not represent the performance report of all the appointees. According to him, 'Those who were given the award did not do any spectacular thing, nor were they committed more than others.
For me, only those close to Okorocha, his wife and relations were honoured.'
Another appointee said he was shocked by the action of the governor.' What indices did Owelle tell you that he used to arrive at the decision that the awardees performed more than their colleagues? I heard that the Commerce for Commerce and Industry, Ichie Uche Best Mbanasor was awarded because the governor once saw him at midnight supervising road construction works in Orlu. As a Commissioner for Commerce and Industry, what did Mbanasor have to do with road construction? What positive impact did Mbanasor leave in the Ministry? How many of the dead industries in Imo state dead he put effort to revive? We all know ourselves. Most of the awardees did not achieve anything to merit the award.'
A former appointee claimed his name featured on the list until few days to the ceremony, alleging that a cabal who has always controlled Okorocha's action was responsible for the 'award list'
Pointblanknews.com further gathered that another issue which has greatly unsettled the former appointees is an order said to have been given by the governor banning them from Government House.
A Government House source told Pointblanknews.com that two days before the award ceremony, ex commissioner for Information, Mr. Chinedu Offor and an unidentified colleague were embarrassed at the entrance to the Douglas House seat of power when they were told that their names were not on the list of guest for the daily.
Offor was said to have contacted the Chief Security Officer of the governor who informed him of an order from above barring the former political office holders from entering Government House. The source hinted that Offor was later asked to park his car outside before he was allowed in.
'I can't explain why Owelle is treating us this way after we toiled for me. Did he record all these achievements by his administration alone, without
the inputs of commissioners, Special Advisers and Assistants?  We all suffered to make him governor. Rather than being grateful for our support,
he is treating us as if we don't matter. We are waiting for him to publicize the list of his commissioner-nominees. We will know the next line
of action. I want tell you that a lot of people who suffered for Owelle are not being reckoned with,' a former Special Assistant lamented.