Lloyd: Rivers PDP Accuses Amaechi Of Obstructing Justice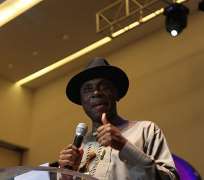 Rivers State Peoples Democratic Party, PDP, Chairman Hon Felix Obuah has accused the state Governor Chibuike Amaechi of plotting to scuttle the prosecution of the Leader of Rivers State House of Assembly Hon Chidi Lloyd who is likely to be charged to court soon for attempted murder of his colleague Hon. Michael Chindah in Port Harcourt.
In a press statement issued on his behalf by his Media Adviser Mr Jerry Needam, the Chairman made the accusation today in Port Harcourt based on reliable information he received that Governor Amaechi has directed the state Attorney General to lay ambush against the prosecution of Hon Chidi Lloyd in Port Harcourt.
According to Obuah, Gov Amaechi who has never cared to visit Hon Chindah in the hospital or offer any assistance or condolence to him or his family, is hell bent on frustrating the prosecution of Hon Lloyd through the State Attorney General and Commissioner for Justice Mr Worgu Boms, an evidence that the Governor is comfortable with the life-threatening harm that Hon Lloyd caused Hon Chindah.
'If Gov Amaechi desires peace, he would have gone to see the badly battered law maker and show concern for the sake of humanity but instead of that, he is plotting that the Attorney General of the State should enter a nolle prosequito terminate the criminal proceedings to be commenced against Hon Lloyd. Such an action will not only be morally wrong but amounts to an abuse of office and miscarriage of justice. It will heighten bitterness and provoke the sympathisers and relatives of Hon Chindah who may be forced to believe that the actions of Hon Lloyd was not an accident but planned and masterminded by the Governor and Lloyd', he said
Hon Obuah said that 'irrespective of what has happened, it is inhuman and absolutely wrong for the Governor to be blocking the due process of justice in such a highly sensitive case where a law maker would have murdered another on the floor of the House as was shown on television', adding that much as nobody is perfect, the actions we take when others are deliberately injured will help to heal wounds and soothe pains.
Obuah cautioned that if the Attorney General goes ahead to issue a nolle prosequi to terminate the trial of Hon Lloyd, the situation might heighten tension and further threaten the prevailing fragile peace in the state and nobody can tell the extent that the consequences may go.
He however, urged the people of the state and members of the PDP to continue to pray for the survival and recovery of Hon Chinda who is undergoing medical treatment in London following the wounds he received when Hon Lloyd repeatedly attacked him with a mace in the hallowed chambers of the Rivers State House of Assembly in the presence of the Governor.
Sign

JERRY NEEDAM
SA, Media
To State PDP Chairman