PDP: Dickson Panel begins Reconciliation With Anambra, Ekiti states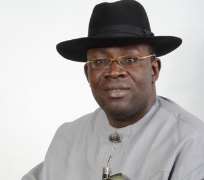 …Lists strategies for success
Newly inaugurated reconciliation committee of Peoples Democratic Party (PDP), has listed Anambra and Ekiti states as priority states to benefit from its reconciliation efforts.
The committee unveiled four strategies to achieving true reconciliation of aggrieved party members.
The strategies, the committee disclosed, are confidentiality, strategic communication, neutrality, and fairness.
A statement by the committee secretary, Ambassador Umar Damagum, appealed to party members in Anambra and Ekiti States to accord the committee maximum cooperation.
He assured that all information supplied the panel shall be treated with "strict confidentiality."
The Governor Seriake Dickson-led committee further assured that none of its member shall speak to the media on any matter except with due approval by its leadership.
"No member of the committee shall serve in any congress committee in a state where such a member is an interested party….No member… Shall hold any inappropriate meetings or contacts with any party," the committee also promised.
The Dickson-led committee gave a commitment to be fair to all, stressing, "all party members to be reconciled shall be guaranteed the right to fair hearing."