National Assembly Take Over of RSHA, Too Hasty—PDP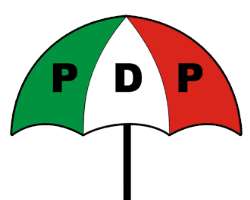 The Thursday, July 26, 2013 resolution of the Nigerian Senate to take over the affairs of the Rivers State House of Assembly is rather hasty and cannot be in the best interest of the state, the state Peoples Democratic Party, PDP, has said.
The party expressed its dissatisfaction with the position of the National Assembly in a statement issued and signed by Jerry Needam, the Special Adviser on Media to the State Chairman of the party, Hon Felix Obuah.
The party argues that the only rationale in the findings of the investigation Senate Committee on the Rivers State crisis which indicted Governor Chibuike Amaechi is that he (Amaechi) having lost grip and can no longer conduct the affairs of the State, should throw in the towel.
Besides, the takeover of the affairs of the State House of Assembly has created a vacuum in the governance of the state, which further weakens the collapsing leadership structure of the Amaechi administration and therefore does not help the state out of the present doldrums.
The Special Adviser, Jerry Needam regrets that the highly reputed Nigerian Senate could go on to hastily deliberate on the issue when it knows that the matter is in court over an earlier decision by the National Assembly to take over the State House of Assembly, describing it as deviant and prejudicial.
From the position of the law as cited by the National Assembly, it's evident that the only reason for their unnecessary intervention is to save Amaechi from a possible impeachment as though the impeachment clause is unconstitutional and affects only Rivers State House of Assembly.
Yet Gov Amaechi has continued to claim to the high heavens that all the House of Assembly members save five are his ardent supporters. Why then is he afraid of impeachment?
'We are particularly worried because in all of this, it's the resources of the state and the tax payers' money that Gov Amaechi is frittering away to woo supporters for his personal ambition to become a vice president at the expense of the state.
The unanswered question remains what interest these National Assembly members, and Amaechi's friends have in Rivers State that they should close their eyes to all manner of atrocities and restiveness in their respective states and senatorial districts to want to proffer quick solution to the selfishly motivated crisis in Rivers State', the State PDP spokesman, Jerry Needam demanded.
Signed


Jerry Needam
SA, Media
To State PDP Chair