HURIWA Accuses Fashola Of Apartheid Policy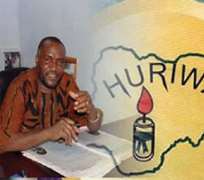 Lagos state Governor Babatunde Fashola's decision of incessant expulsion of destitute and beggars from Lagos streets to other states of the federation has been described as modern day apartheid policy reminiscent of the discredited and defunct South African White supremacist policy, which must be condemned strongly by all well meaning citizens of Nigeria.
A development inclined Non-Governmental organization-HUMAN RIGHTS WRITERS' ASSOCIATION OF NIGERIA (HURIWA) which made the observation said the atrocious and discriminatory action of the Lagos State government by expelling poor people out of Lagos streets to other states within the Federation of Nigeria violate relevant sections of the nation's Constitution enshrined in chapter four (as amended) just as the Rights group accused Governor Babatunde Fashola of displaying 'overbearing/overwhelming aversion' for poor struggling Nigerians trying to make a living in the increasingly difficult Nigerian business terrain.
National Coordinator of HURIWA Comrade Emmanuel Onwubiko and the group's national media Affairs Director Miss. Zainab Yusuf who endorsed the media statement jointly has therefore asked the Lagos state governor to stop forthwith the enforcement of apartheid type discriminatory policies against the poor but to deploy public fund towards implementing workable and fool proof measures to positively transform those identified as homeless persons to become productive and useful members of the society.
HURIWA said thus; 'We received with incredible trepidation, the recent report that dozens of alleged beggars and persons who are clearly poor and homeless being dumped in the River Niger Head bridge in Onitsha Anambra State by agents of the Lagos state government in the wee and ungodly hours of the night protected in their shameless action by armed police operatives who are paid with tax payers money'.
'HUMAN RIGHTS WRITERS' ASSOCIATION OF NIGERIA therefore views this atrocious act of the Lagos state government in active conspiracy with the Nigerian Police Force as vicious crime against humanity and flagrant violation of sections 34(1); 41(1); and 42(1) of the Nigerian constitution of 1999 [as amended] which clearly outlaws discrimination and guarantees freedom of movement and Rights to dignity of human persons as sacrosanct; universal; inviolable and inherent".
'The Lagos state governor must be told that he has no right to expel any Nigerian to another part of Nigeria since the supreme body of law provides that 'Every citizen of Nigeria is entitled to move freely throughout Nigeria and to reside in any part thereof and no citizen of Nigeria shall be expelled from Nigeria or refused entry thereto or exit therefrom', and as a lawyer the governor of Lagos state must respect the tenets and spirit of the Nigerian constitution', HURIWA, stated.
HURIWA recalls that news report has it that agents of the Lagos State Government reportedly brought the destitute to Onitsha numbering about 70 persons.
The expelled destitute told journalists on July 24th 2013 that they were dumped about 3am at Upper Iweka near the overhead Bridge in Onitsha, Anambra state after being detained in Ikorodu, Lagos, for over six months for alleged wandering and other minor offences by the Lagos State Kick Against Indiscipline officials.
The destitute said they were brought to Onitsha in four buses, escorted by riot policemen.
One of them, Mr. Osondu Mbuto, from Ohaozara in Ebonyi State and a petty trader in Lagos, told journalists that he was arrested by the Lagos State Government officials while going to his shop on December 18, 2012.
HURIWA therefore has asked the Lagos state government to reverse this inhuman policy and pay the necessary compensation for these grave breach of the fundamental human rights of these Nigerians.