2015 ELECTION: MY 9 YEAR OLD DAUGHTER MUST VOTE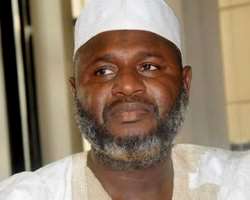 "I've always held that early marriage is a sure indication of second-rate goods that had to be sold in a hurry" - Martin Harris
Why must anyone blame Yerima for raising a motion for the amendment of early child marriage in the Nigerian constitution? I thought the National Assembly is a chamber for honorable lawmakers and distinguished senators whose duty it is to make, re-make and amend the laws of the country? I don't know if I'm mistaken but I stand to be corrected. I thought this distinguished senators where elected by the Nigerian citizenry, so why the hue and hullabaloo when they chose to make a law allowing 'underage' girls or are they now 'ladies' to be married at age nine(9)? Let nobody give me the crap that they are (s)elected, after all the entire nation did not go into flames as other countries would have done if there was rigging.
Why is anyone calling for the head of distinguish Senator Sani Yerima for been the champion of this early child marriage crusade after giving him an overwhelming vote to represent us in the hallowed chamber? This country and its electorates must be the greatest joker of the century. Where were they when the election was conducted? Where were the so called feminists when Senator Yerima (then Zamfara state governor) imported a thirteen(13) year old girl, Mariam Maged Elady as a wife from Egypt paying a scandalous bride price of $100,000 and now they are screaming blue murder on this act? These country citizens must be the joker of the century.
"I live in a city where young girls at the age of 12 have(sic) already became(sic) serial fornicators and cannot count the number of men they were intimate with. I live in a city where school children disvirgin(sic) themselves behind toilets on valentine day. I live in a city where young girls flood the street at night looking for men that would give them N500 to be intimate with them. I live in city where parents send their daughters out overseas to prostitute and send dollars down. I live in a city where government officials pick undergraduates from university car parks with coastal buses to wild sex parties. I live in a city where abortion is so common that even a chemist shop owner can perform abortion with just N2500.
These are your daughters, and this should worry you not Yerima's private matters. So ask me again why I support early child marriage and I will slap the Jinn out of you" – Senator Yerima.
This statement from Yerima though not yet confirmed by me is a slap on the nation and a firsthand revelation of the moral decadence of our elected and appointed government officials. Yerima is a government official and wouldn't be making false claim about his colleagues rampaging our universities to pick up young damsels in their teens to 'service' their wrinkled grand pa body. Did we hear him right that they don't 'pick' the girls with the government cars that we collectively fuel but with coaster buses? Oh my Allah! That must be a night of orgy. This is where the battle should begin.
Yerima has opened a can of worm, imaginations that were only in our brains, ideas that we only get from Nollywood and stories that we only read about. Now the horse has spoken, questions must be asked and no other person will be in a better position than our dear 'Prof' Yerima who live in this city. For all I know, Yerima live in two cities, namely Zamfara and Abuja and in both cities, he holds sway, as an ex governor in Zamfara and a serving Senator in Abuja. The question is: Since the Senator knows the happenings in these cities, why didn't he propose a law banning the daughters of Eve from parading the streets of Zamfara and Abuja in search of vulnerable, wayward and loose men like our honorable members and government official? Can deceitful, sorry, distinguished Senator Yerima name any of the chemists who perform abortion and for a ridiculous price of N2500?
Let the questions begin from there and every other thing will follow. That the Senators could be convinced on the altar of religion is the dumbest excuse ever conjured from the planets. It simply goes to show that puppets have been elected to represent us. Come to think of it, is early child marriage the solution to our monumental tragic situations? If core Islamic countries like Egypt and UAE forbids a girl from marrying before eighteen (18) years, why should followers of a borrowed religion in Nigeria, typified by our Moslem lawmakers be more Islamic than the Sheikh of Saudi Arabia? We are fast loosing it as a country, creating headlines for the various media houses when they could be avoided, yet cry unpatriotic when they are published. From MEND to Boko Haram and then to amnesty, suddenly state of emergency etc and now a law legitimizing early child marriage beginning from age nine(9).
Now this is no one concern if a parent choose to marry out their new born baby girl to hundred Lustful lawmakers, after all, being betrothed as a kid to a man of twenty(20) is to be married, but let all thing be equal with my humble submission. Any married lady is deemed mature and in every right thinking nation, they are eligible to vote. As the law gain an overwhelming support by the Senators, let a law be quickly passed allowing 9 years old to vote and be voted for and who know, we could have a Guinness book of record certificate for electing the world youngest president at age 9. Refusal to do this is infringement on their fundamental human right, since they have been psychologically robbed of their childhood, even denied their fundamental child right. Didn't the women activist raised down the heavens in the 'mama na boy' MTN advert? Where have they suddenly gone to or are they only equal to multinational companies, which are owned by foreigners, when under their nose, worse sacrilege are committed by their own people whom they stood under the sun and rain voting for?
As Nigerian pedophile Senators begin their lobby to their counterpart in the House of representatives and the various state house of assemblies, let no one be deceived that these set of lawmakers who stood by the masses during the fuel subsidy saga of January 1st 2012 will be 'foolish' enough not to endorse what their senior counterpart have unanimously agreed upon. The majority of the houses of assembly members are from the North where Yerima come from and in my own estimation are grateful to Yerima for speaking their minds (I'm no tribal or religion bigot). 'Scratch my back, I scratch your back' says a local parlance, that is to say they cannot fall their 'big brother' hand before ordinary Nigerian like you and I by voting against it. No amount of tears or apology from the Southern Senators can erase the mortal blow they have inflicted on their kinsmen who voted them in to stand up against immorality in times such as this. Whatever reasons offered is not just just.
The girl child that the senators want to marry say they want pen, not your uncircumcised pennis, they want to be asked about their books, not boobs. They ernestly crave for education, not ejaculation. Yes they want to call you daddy, not hubby. Is this too much for them to ask?
I stand to be proved wrong, but this bill is passed into law already and like every other day, a new event will overtake it, confining it to the dustbin of history. But woe betides any civil women group or feminist who will challenge any man authority for being an obsessive lord over his wife or any woman on the street should they fail to fight aggressively to stop the passage of this satanic law. They either speak now or forever remain silent.
Let's take this as no joke that the proponent of this law have spotted 9 to 13 years old damsels and desiring to marry them needed such law to give them backing, knowing full well that the 'children of anger' will go tweeting against it, after the Yerima 2010 saga. This time, the child bride will not be imported from Egypt where a huge dowry will be paid, but will be at our backyard and she could even be your daughter reading this piece.
As the 2015 election approach, I need no law passed for me to register my ten(10) year old daughter to vote for the candidate of my choice. Yes! I need no law as everyman is now a law to himself. This is just the beginning of the Yerima kind of law as a law would soon be made mandating all pregnant women to go for scan to determine the sex of the unborn baby. If it happens to be a female child, the lawmakers will debate among them who will marry her. Verily verily I say unto you, ladies may claim to run the world on their BBM display pictures and status, but evidences on ground convinces beyond reasonable doubt that this is unarguably a man's world. So bad that the men have now chosen to run it this way.
Now let's test the law. Distinguished Senator Sani Yerima, I am using this platform to publicly ask for the hand of any of your fourteen(14) year old daughter in marriage with a bride price of $5000 and still willing to take all the floggings that go with it. I'm waiting.
Oops! It's almost 10am and I'm missing my flight to Russia where I'm taking my 10 year old daughter, Princess to, to continue her education to avoid her being kidnapped and forcefully married pending the 2015 election when she will come back briefly to register and cast her vote. She's very beautiful you know.
This little things matters…
Written By Fejiro Oliver

Disclaimer:

"The views/contents expressed in this article are the sole responsibility of the author(s) and do not necessarily reflect those of The Nigerian Voice. The Nigerian Voice will not be responsible or liable for any inaccurate or incorrect statements contained in this article."
Articles by thewillnigeria.com