Libya: Helping people resume normal life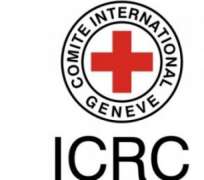 GENEVA, Switzerland, July 25, 2013/African Press Organization (APO)/ -- Despite the unstable environment, Libyans are striving to resume normal life. The ICRC and the Libyan Red Crescent continue to provide urgent aid as needed, to promote detainee welfare and to improve water management.
"Clashes have occasionally been flaring up in tense parts of the country, sometimes resulting in the displacement of thousands of people who seek safety in neighbouring areas," said Katharina Ritz, head of the ICRC delegation in Libya. Whenever this happens, the ICRC and the Libyan Red Crescent provide urgent relief.
In May, clashes in Tiji and Al-Hawamid, in the west of the country, resulted in the displacement of at least 1,800 people. The ICRC and the Libyan Red Crescent provided hygiene items, mattresses, diapers, kitchen sets, buckets and blankets for 900 people taken in by host families. Together with LibAid, a national aid organization, they also provided food for displaced people in both towns.
Sporadic clashes in the Nafusa mountains, in the western part of the country, resulted in the displacement of thousands of people in April. In Mizda, 160 kilometres south of Tripoli, several thousand people fled to nearby towns. In coordination with the Libyan Red Crescent, the ICRC provided food and other essential items for 9,000 people in Shuqayqah, Nismah and Qaryat, three towns where people took refuge.
More than 10,000 detainees visited
"We stand ready to work together with the new authorities to improve detainee welfare, water management and the training of army and police personnel," said Ms Ritz.
Over the past six months, more than 10,000 detainees in 33 places of detention have been visited by ICRC delegates. "The aim is to ensure that detainees, whatever the reason for which they are being held, are treated with dignity and humanity, in accordance with international standards," said Maria Elena Ciccolini, an ICRC delegate working in Libya. "Some of the detainees were given clothing and hygiene items, and in one place the sewage system was upgraded."
At Al-Mahdiyyah Retention Centre for Migrants, in the south of the country, the ICRC and the Libyan Red Crescent jointly helped improve hygiene conditions at a time of year when heat can have adverse effects on public health. Between 16 and 18 May, bottled water, hygiene items, mattresses, tarpaulins and sleeping mats were distributed to nearly 850 people in the centre. Similar visits were made to eight other centres accommodating approximately 3,000 migrants.
Helping families of Guantanamo detainees
Since April, the ICRC has organized teleconference calls on four different occasions for three detainees, from Tripoli, Benghazi and Misrata, held in Guantanamo Bay, Cuba. Their families were able to see and talk to them face to face. "My 17-year-old daughter had never seen her uncle before," said Abd-al-Salam, who drove with his family from Al-Bayda, around 200 kilometres east of Benghazi, to speak to his detained brother. "She was born after he had left Al-Bayda. This is the first time she was actually able to speak to him."
Identifying bodies
In May, the ICRC was asked by families in Beni Walid and by the Ministry of Justice to serve as an observer as the unidentified remains of 22 people thought to be from the city were re-examined. The ICRC's role was to witness the fact that the autopsies, by a five-member committee appointed by the justice minister, were performed in accordance with national and international standards. The ICRC submitted a report to the authorities and kept the families informed about procedures and results.
Providing food during Ramadan
The ICRC is cooperating with the Libyan Red Crescent and the Ministry of Religious Affairs to make sure that the basic food needs of at least 36,000 people in four major cities are met during the fasting month of Ramadan. Various food items have been distributed in Sabha and Misrata since 13 July, in Tripoli since 14 July, and in Benghazi since 18 July.
"The idea is to give poor people the opportunity to eat something after their 16-hour-long daily fast," explained Asma Khaliq Awan, the ICRC delegate managing the distribution. "This Ramadan, the aim is to provide food for more people through reinforced cooperation between the Libyan Red Crescent and the ICRC."
Clean drinking water is restored for people in Tamina
The ICRC has made safe water more readily available for over 21,000 people by providing support for local water boards in the west, east and south of the country. In Tamina, near Misrata, it has upgraded the water supply system. "It's important for people to have access to basic necessities such as clean water," said Yannis Khemiri, head of the ICRC sub-delegation in Misrata. Tamina's water supply was destroyed during the conflict in 2011. The ICRC has also supplied water in Al-Kufra, Al-Hamiyah and Al-Abyar, Benghazi, and treated sewage and wastewater in a plant in Al-Suwaydiyah serving 3,000 people.