Supporters of Umana Okon Umana Seize Global Concord Newspapers in Uyo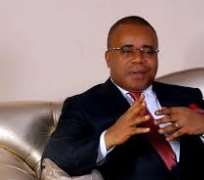 In the wee hours of Wednesday July 24, 2013, gunmen, numbering about 15 and reported to be the supporters of Umana Okon Umana(SSG Akwa Ibom State), stormed the distribution center of Global Concord, which is located at Udo Street, and seized 5,200 copies of the Wednesday edition of the newspaper; a copy of the newspaper is sold at N150.00. Eyewitnesses reported that when the gunmen arrived at the premises in five keke (tri-cycles that have replaced okada) they began shooting into the air. Luckily, no one was hurt.
The editors of the Global Concord blame supporters of Umana Okon Umana for the seizure of their newspapers. One of the editors went as far as pointing a finger at one Mr. Boniface Nyong, who has admitted to being a media Consultant/Specialist to Umana Okon Umana.
According to the account given by one of the editors, 'when the gunmen stormed the building, I asked who sent them and they mentioned Boniface Nyong. I placed a call to him (Nyong) and he admitted that he sent the boys because of the refusal of Global Concord to support Umana Okon Umana. Then he (Nyong) asked me to meet him somewhere so that he could negotiate with me on how to solve the problem. He even offered to pay for the newspapers. Well, I refused to meet with him.'
After I spoke with the editor, I placed a telephone call to Boniface Nyong, who lives in Uyo. This is how our conversation went:
Thompson: Can I speak to Mr. Boniface Nyong
Nyong: Speaking.
Thompson. My name is Thompson Essien. I am calling you from the United States and do you have a minute I can ask you about the seizure of Global Concord this morning?
Nyong: Let me tell you something, if I did not have respect for you I would hang up this phone because I don't like it when people call me and talk nonsense, because I have told Global Concord that I don't have any hand in what has happened to them.
Thompson: Well, I am going public with the story and this is your chance to tell me your own version of what happened.
Nyong: What happened is that Unyime Ekwere (the publisher of Global Concord) called me and started screaming on the phone and I told him to calm down. I told him that he should meet me so that we could sit down and talk over some things.
Thompson: What did you plan to discuss with him?
Nyong: To discuss how we can move the state forward and settle on the issue of what happened to his newspaper.
Thompson: If you had nothing to do with the seizure of the newspaper, why would you offer to negotiate with him?
Nyong: Because I feel sorry for them and I sympathize with what happened to him.
Thompson: So, are you denying your involvement with the seizure of the newspaper?
Nyong: I don't know anything about it; my hands are clean.
Thompson: Did you know that when you spoke with the Global Concord they were recording your conversation?
Nyong: Silence
Thompson: The people at Global Concord have played the tape for me to listen. And in the tape you admitted and claimed responsibility and that you did so at the insistence of Umana Okon Umana. What is your response?
Nyong: I have told you, I have no idea of what is going on.
Thompson: Are you working for Umana Okon Umana?
Nyong: Yes. Actually, there are six of us who work for Umana as Media Specialists. I have a feeling that one of us might have taken upon himself to seize the Global Concord. But it wasn't me. That is why I invited them (the editors) to meet with me so that we can sit down and discuss for solution.
Thompson: Are you the same Boniface Nyong who contested unsuccessfully three times for a seat in the House of Representative representing Uruan LGA?
Nyong: Yes! That's me.
Thompson: Are you also the Publisher of Femon newspaper?
Nyong: Yes. That is why I would not do anything to damage another newspaper.
Thompson: Do you know that the police are investigating the matter and that if you were involved you may be charged for committing a crime?
Nyong: Of course, I know that.

After I finished speaking with Mr. Boniface Nyong, I placed a call to Mr. Unyime Ekwere, the Publisher of Global Concord. I told him what I have been told by Boniface Nyong. This was his response: 'You know the man will never tell you the truth because he is a pathological liar. I just got off the phone with him. He even offered to pay me for the newspapers. And I just found out that as soon as they carted copies of the newspapers from us, those copies were on sale on the streets.'
I asked Mr. Ekwere for reasons he thought were the motives for the supporters of Umana Okon Umana to seize his papers. His response: 'In that edition, there was a report on how Umana Okon Umana has sent his thugs to arrest the youths of Nsit Ubium that demonstrated against him. It is obvious that Umana did not want the story published. So, as a future governor, his solution was for an order to seize the newspaper.'
Comment:
It is no longer a secret that Umana Okon Umana wants to succeed Akpabio. But if he starts now to trample on the freedom of speech of the people, when he is yet to officially declare his candidacy, then it is easier to conclude that those who are against his ambition, such as me, have been able to figure out that Umana Okon Umana's administration will be worse that that of Godswill Akpabio.
In any society, be it in the East, North, South, or Western Hemisphere, whenever the freedom of the media is suppressed, it always leads to darkness, servitude, and naked oppression of the masses. When Akpabio first assumed office, suppression of the media was his first destructive move, the rest is history. It appears as if Umana Okon Umana is ready to emulate Godswill Akpabio.
May God stand by Akwa Ibom State?
Disclaimer:

"The views/contents expressed in this article are the sole responsibility of

Thompson Essien

and do not necessarily reflect those of The Nigerian Voice. The Nigerian Voice will not be responsible or liable for any inaccurate or incorrect statements contained in this article."