Fulani-Farmers Clashes: Benue, Nasarawa Threaten Erring Monarchs With Suspension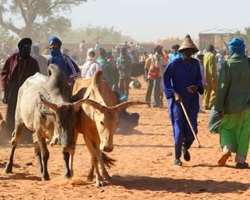 SAN FRANCISCO, July 24, (THEWILL) – Following the formation of a committee to reduce the incessant clashes between Fulani herdsman and farmers over grazing land in Benue and Nasarawa States, the government of the two states have read the riot act to traditional rulers with whom an understanding has been reached on the issue, warning that erring monarchs would be suspended.
Benue State governor, Gabriel Suswam, disclosed this on Tuesday when speaking after a meeting with President Goodluck Jonathan in Abuja on the outcome of a meeting between him and his Nassarawa State counterpart, Alhaji Umaru Tanko al-Makura.
Suswam equally warned that any Fulani herdsman or farmer found wanting after the agreement would be handed over to police for prosecution.
The National Economic Council (NEC), at its meeting last week, had suggested that grazing reserves in the country should be eradicated to mitigate the incessant conflicts between the farmers and the herdsmen.
On the new committee formed by the two states, Suswam said: "We resolved to set up committees in Local Governments that share borders with themselves both in Nassarawa and Benue. We set up committees of seven, seven that is 14 per 2 Local Governments, seven in Nassarawa, seven in Benue, headed by the paramount rulers of these local governments."
He disclosed that members of the committee also included Fulani herdsmen and the farmers themselves, both of whom are expected to report missing cow(s) or destroyed farmlands respectively to the committees, "whether he is in Nasarawa or Benue."
He said the committee would be held responsible for any breakdown of the agreement.
The Benue governor said he was optimistic about the resolve of the two states to stop the incessant attacks as said will drop, he said the move will "re-establish confidence in both the nomads and the peasant farmers."
According to Suswam,"We have mischief makers who are not happy anytime there is peace, but we are watching out for such people."