House Postpones Voting On Constitution Amendment Till Wednesday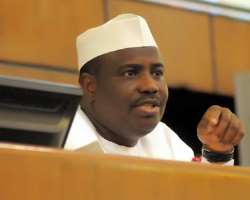 SPEAKER HOUSE OF REPS, AMINU WAZIRI TAMBUWAL
ABUJA, July 23, (THEWILL) – The House of Representatives, Tuesday, suspended voting on the Constitution Amendment report till Wednesday.
The decision was taken after a closed-door session with the members taking about four hours at the plenary studying how to vote using the new software installed in the chambers. The Nigerian Communication Satellite (NIGCOMSAT) is providing the new electronic voting system with 360 ipad tablets secured for all the lawmakers.
Consequently, the House postponed voting earlier scheduled for Monday till Wednesday.
Announcing the postponement after the executive session, the Speaker, Aminu Waziri Tambuwal, said the postponement was to allow the lawmakers to familiarise themselves with the newly-acquired electronic device that will be used for voting.
"We know that Nigerians are eagerly waiting for the outcome of the voting, we only want the voting process to be transparently conducted, that is why we chose to allow the members to charge their system fully before tomorrow, and familiarise themselves it," Tambuwal said.
It was however gathered that the suspension was due to the inability of the newly-acquired system to accommodate 360 votes simultaneously as the broadband of the electronic gadget can only accommodate about 50 votes at a time.
The Director General of NIGCOMSAT, Engr. Ahmed Rufa'i, who was in the chambers apologised to the members for the late arrival of the gadgets, and promised to tackle the hitches faced by the members.
He however assured the lawmakers that the device application will be well programme for the voting on Wednesday.