Suntai's ADC Back- Taraba Govt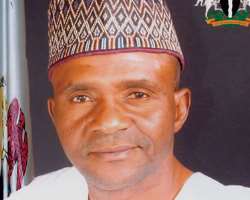 Ilaya Dasat, Aide de Camp (ADC) to the hospitalised governor of Taraba State, Danbaba Danfulani Suntai, is fully recovered and back in Nigeria, the state government has said.
A statement by the government said Dasat, who was injured alongside Governor Suntai, when their light aircraft crashed last October, returned Monday afternoon in Abuja, aboard a Lufthansa airliner.
According to the statement signed by Commissioner for Information, Hon. Emmanuel Bello, Dasat, a police officer, was on arrival received by family members and friends.
Bello said the ADC was clad in light blue suit, and was full of smiles as he recounted their ordeal through the accident, and how God  miraculously saved them.
The statement quoted Dasat as planning to spend some time with his family before jetting off to see his recuperating boss in the United States.
The state spokesman said the ADC also had cause to celebrate as he was reunited with his baby boy born during his hospitalisation in Germany.