Vodafone Says Would Consider Verizon Offer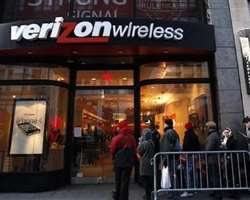 The chairman of the world's second-largest mobile operator Vodafone (VOD.L) said that the group would seriously consider any offer for its stake in its U.S. joint venture Verizon Wireless, but that there was nothing new to announce on Tuesday.
Vodafone's partner Verizon Communications (VZ.N) has made little secret of its desire to buy out Vodafone in a multi-billion dollar deal that would be one of the largest of all time.
The company's chairman, Gerard Kleisterlee, was speaking at Vodafone's annual meeting in London.
Vodafone owns a 45 percent stake in the U.S. joint venture and said in May that it would consider an offer but it was comfortable with the status quo.
REUTERS