CHILE COUNTS COST OF EARTHQUAKE AS TSUNAMI FEARS EASE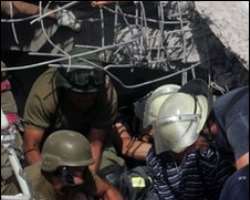 nerPostTitle">CHILE COUNTS COST OF EARTHQUAKE AS TSUNAMI FEARS EASE Written by Prince World News http://www.nigerianbestforum.com/blog/?author=1 http://www.nigerianbestforum.com/blog/?cat=402 Feb 28, 2010
http://www.nigerianbestforum.com/blog/wp-content/uploads/2010/02/47388975_008861005-1.jpg Chile's coastal towns have suffered severe damage in the quake
Chile has begun to count the cost of its deadly 8.8 magnitude earthquake as nations around the Pacific eased their fears of a devastating tsunami.
The quake, on Saturday morning, killed at least 300 people – 90% of them in their homes. It is feared the damage may cost tens of billions of dollars.
One major rescue effort is in the city of Concepcion, where dozens are feared trapped in a collapsed apartment block.
The Pacific-wide alert for a tsunami in the wake of the quake has been lifted.
Chilean President Michelle Bachelet said that two million people had been affected by the earthquake.
The 8.8 quake is one of the biggest ever recorded and the largest to hit Chile in 50 years.
'Catastrophe'
Many Chileans in affected areas have spent the first night since the earthquake outdoors, afraid to stay inside.
In Concepcion, close to the epicentre, mayor Jacqueline van Rysselberghe said dozens of people were trapped in the collapsed apartment block.
"Time is of the essence to save the people inside this building," she said.
Rescue coordinator Commander Marcelo Plaza said: "We spent the whole night working, smashing through walls to find survivors. The biggest problem is fuel, we need fuel for our machinery and water for our people."
National television showed pictures of people removing goods from supermarkets in Concepcion, Chile's second city, before police arrived to clear the crowd with tear gas and water cannon.
The situation there has been described as critical.
Ms van Rysselberghe said Concepcion had as yet received no food or other aid from Santiago and that it was urgently needed.
Strong aftershocks have continued to rock Santiago and other areas.
The epicentre of the quake was 115km (70 miles) north-east of Concepcion and 325km south-west of Santiago.
Chilean officials and ministers are still trying to come to terms with the scale of the disaster.
Interior Minister Edmundo Perez Yoma said it was difficult to give precise figures of a "catastrophe of immense proportions".
One US risk assessor, Eqecat, put the value of the damage at between $15bn and $30bn (£9.8bn-£19.6bn) or 10-15% of gross domestic product.
About 1.5 million homes have been damaged and police patrols have been stepped up to deter looters.
Most of the collapsed buildings were of older design – including many historic structures. About 90% of the historic centre of the town of Curico was destroyed. Many roads and bridges across the affected area were damaged or destroyed.
Santiago airport was damaged and remains closed.
Jose Abumohor, of Chile's national emergency centre, said efforts were already under way to restore public services.
"The aim is as soon as possible that we manage to reach a state of normality," he said.
Mr Abumohor said the metro system would soon be working in Santiago and other transport services were slowly returning to normal. Roads were passable, although with diversions.
Efforts were under way to get aid to those who needed it, with relief supplies essential for the Juan Fernandez islands, where at least five people were killed as tsunamis hit.
The coastal town of Talcahuano, badly damaged by tsunami waves, is said to be the worst affected.
Organisation of the reconstruction effort will soon pass to Chile's new president, Sebastian Pinera, who takes office in two weeks.
"It's going to be a very big task and we're going to need resources," he said.
Chile has so far not requested aid despite offers of assistance from the US, China, the EU, the UN and others.
Foreign Minister Mariano Fernandez said Chile did not want aid offers to be "a distraction", adding: "Any aid that arrives without having been determined to be needed really helps very little."
Economic analysts say the quake will have a deep impact on Chile's economy, with the peso weakening in the short term and a large cost for rebuilding.
However, Chile could benefit in the long term from an economic boost in the reconstruction effort.
Alberto Ramos of Goldman Sachs told Reuters: "The Chileans fortunately have the best managed economy in the hemisphere and will be able to deal with this terrible adversity."
Evacuation orders
Meanwhile fears of a devastating tsunami across the Pacific receded on Sunday.
Japan has maintained an alert, issuing evacuation orders for 320,000 people around the coast.
However, it downgraded its alert from major to normal – meaning waves of two metres were expected rather than three.
About 50 Pacific countries and territories had issued tsunami alerts.
French Polynesia and Tahiti were among those hit by high waves, but no casualties have been reported.
The Pacific Tsunami Warning Center on Sunday lifted its Pacific-wide alert.
Warning systems across the Pacific have improved since the 2004 Indonesia quake sparked a tsunami that killed nearly 250,000 people.