EKITI REPS CAUCUS AND BAMIDELE'S SUSPENSION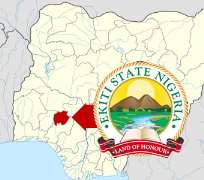 Five members of the Ekiti State caucus in the House of Representatives, on July 9, 2013, suspended their colleague, Hon. Michael Opeyemi Bamidele, representing Ekiti Central 1 Federal Constituency, as their leader.
The said suspension was due to his ambition to run for the governorship race in 2014 against the incumbent Governor, Dr. Kayode Fayemi, who was reported to have been endorsed by the leadership of the Action Congress of Nigeria (ACN) for a second term.
According to the legislators, Bamidele's ambition is not in tandem with the position of their party, ACN, hence, the decision to remove him as their leader and they immediately replaced him with Hon. Robison Ajiboye, representing Ekiti North 2 Federal Constituency.
In a statement read out to newsmen and captioned: 'Time to set the records straight', the parliamentarians said: "In the past six months, there has been the issue of one of our colleagues, Michael Opeyemi Bamidele, also the leader of Ekiti State caucus of the House of Representatives and by extension the Chairman, House Committee on Legislative Budget. Over this period, we, his colleagues have been inundated with enquiries by colleagues from other states, well-meaning Nigerians and our constituents on whose mandate we derive the legitimacy to remain in the House of Representatives, seeking to know what is going on about the hearsay that Bamidele is breaking ranks with what we represent and the ideals we share- loyalty to the cause and concern for the good people of Ekiti State championed on the platform of the ACN."
In the thinking of the Ekiti representatives, Bamidele's desire to contest with Fayemi does not only amount to a distraction, but also portends serious setback for Ekiti State.
They added: "As earlier enumerated, to get the state and its people to this point has taken conscious and concerted hard work over the past three years, with sleeves rolled up, hands on the plough and this is not the time to allow or entertain distractions in any form, manner or way and indeed from anybody that would set us on a path of retrogression, which is what the ambition of Bamidele signifies at this time."
There are, indeed, many questions begging for answers from the preposterous, ludicrous and undemocratic action of the Ekiti Reps. Is Bamidele's decision contrary any known provision of ACN constitution? Shouldn't people be free to contest for whatever position at any level as long they have the required qualification and pedigree? In a democratic setting, who should decide who becomes the candidate of a party in an election? Should people be unnecessarily vilified and persecuted for seeking to contest against an incumbent President, Governor or even local government chairman?
Most keen watchers of political events in the country accused the People's Democratic Party (PDP) of persecuting Governor Rotimi Amaechi of Rivers State, because of his rumoured ambition to vie for vice presidential seat alongside a yet-to-be-known presidential aspirant from the North in 2015, which seemed to be against the wish of some chieftains of PDP, who felt that Jonathan should be allowed to continue in office.
ACN as a party has at several times condemned the President and PDP for the crisis that was triggered off from the whole scenario in Rivers State. Therefore, lawmakers of ACN platform, which is a frontline critic of PDP and major player in the merger arrangement of key opposition parties, should not be seen acting in this manner. It will only go a long way in further confirming the belief of most Nigerians that all politicians are the same regardless of their political affiliations.
Good enough, Tinubu, the party's national leader, in very strong terms, decried the action of the Ekiti caucus of the House of Representatives and directed them to reverse their decision, while noting that Bamidele has every right to contest for the 2014 gubernatorial election in Ekiti State.
In a statement personally issued by him, the former governor of Lagos State maintained that, "I have said before, any party member has a right to contest the governorship of Ekiti or any other state. Any other person, including Opeyemi Bamidele, has the right to. This right is so fundamental to internal democracy that I do not believe he should be sanctioned at this point where all he has done is make unofficial statements about contesting. Our party cannot join the club of other parties that punish members for expressing interests in an office. While Opeyemi Bamidele's position may not be popular among his colleagues, he has the right to believe as he does. We must protect and smother unpopular and minority positions. If we don't like it, we vote against it at the appropriate time, but we do not punish people simply for thinking differently, this is how we must grow our democracy."
Following Tinubu's condemnation and directive, Minority Leader in the Green Chamber, Hon. Femi Gbajabiamila, a chieftain of the ACN reportedly said that the matter has been resolved, while disclosing that Bamidele remains the Ekiti caucus leader.
Gbajabiamila noted that "on Tuesday, July 9th, the Ekiti caucus in the House of Representatives met to consider issues bordering on the leadership style of Honourable Opeyemi Bamidele, following which he was removed as the Ekiti caucus leader. Consequently at a meeting between the Ekiti caucus and the ACN House leadership on Thursday, July 11th and after representations were made by Honourable Bamidele and Ekiti ACN lawmakers in the House. The matter was exhaustively discussed and it was resolved that in the spirit of reconciliation and in the best interest of the party, the status quo ante be maintained and Honourable Opeyemi Bamidele should be returned and is hereby returned as the leader of the Ekiti caucus of the House of Representatives."
I must say here that there's nothing wrong in the leadership of ACN endorsing Fayemi for a second term based on his performance in office and persuading every other intending aspirants to step down for him. But where any member (like in the case of Bamidele) insists on contesting against him, ACN must create a level-playing ground and conduct a transparent primary election, for him to test his popularity and political might in the party, without taking any action to compel or railroad him into stepping down.
Written By Michael Jegede

Disclaimer:

"The views/contents expressed in this article are the sole responsibility of

thewillnigeria.com

and do not necessarily reflect those of The Nigerian Voice. The Nigerian Voice will not be responsible or liable for any inaccurate or incorrect statements contained in this article."
Articles by thewillnigeria.com