Africa Oil Week celebrates 20th Anniversary
World's leading Conference, attended by 1250 delegates from Six Continents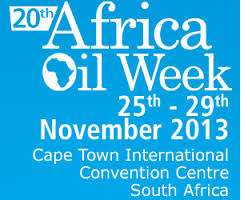 Africa Oil Week celebrates 20th Anniversary
CAPE-TOWN, South-Africa, July 22, 2013/African Press Organization (APO)/ -- The 20th Africa Oil Week (http://www.petro21.com), the world's longest standing and leading meeting for Africa's oil and gas industry, celebrates its Twentieth Anniversary, as over 1250 delegates from six continents attend the Conference (Cape Town, November 25th-29th). Over 100 leading speakers from leading corporates, governments, national oil companies, licensing agencies, independents, banks, service and supply, analysts and institutions and will give insight into the Continent's future.
Logo: http://www.photos.apo-opa.com/plog-content/images/apo/logos/logogpp.jpg
As the Conference Chairman, Dr Duncan Clarke, remarked: "With a consistent record of oil and gas discoveries, and rising oil and gas reserves across its hydrocarbon terrains, growing oil/gas production, new ventures and discoveries, and several LNG developments, with large oil/gas potential in the north, and the world-class onshore/offshore discoveries in the fast-emerging east coast, Africa remains one of the key regions in the global oil and gas game."
The 20th Africa Oil Week, organised and hosted by Global Pacific & Partners, is the landmark occasion for Africa' energy industry, a meeting with established global reputation and one of the top world-class Conferences held annually in the international oil/gas industry calendar.
The Conference provides the highest levels of networking across the oil/gas-LNG and energy industry on the Continent. Delegates obtain unrivalled insights on Africa's fast-moving oil and gas game, exploration strategies, corporate assets/portfolio, bid rounds, open acreage, investment potential, emerging technologies and key themes, with Discussion Panels for direct interface between senior executives, governments and stakeholders. This makes Africa Oil Week not to be missed: and in 2012 the event sold out weeks prior to the Conference.
The Program for this year's Africa Oil Week includes the 15th Scramble For Africa Strategy Briefing on November 25th, the 10th Africa Independents Forum on November 26th, the 20th Africa Upstream Conference during November 27th-29th, with Annual Board Awards, and the 54th PetroAfricanus Dinner on November 25th with Guest Speaker – plus with Book Launch for author Babette van Gessel, Our World Safari, So Far (Jacana, 2013).
During the Scramble for Africa Strategy Briefing, Dr Duncan Clarke (Chairman & CEO) provides original insights on the Continent's competitive upstream oil and gas game based on in-depth tracking of changing competitor maps across Africa for oil and gas-LNG companies and state oil entities, built on seasoned insights and interpretations of around 750 players, thus drawing an unique image of Africa's emerging and fast-changing petro-cartography.
In 2013 the Conference takes place at a new venue: the Cape Town International Convention Centre, able to accommodate 1500 delegates in the Auditorium, and with added capacity for Exhibition Stands, Corporate Showcases and Parallel Sessions which feature special themes.
Distributed by the African Press Organization on behalf of Global Pacific & Partners.
Note to Press:
For further information please contact Babette van Gessel, Global Pacific & Partners,
Tel: +31.70.324.6154, e-mail: [email protected] – visit www.petro21.com