Edo PDP: Oshiomhole Splashed N306m on SUVs, inflated by N120m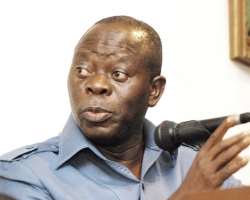 Edo state chapter of Peoples Democratic Party (PDP) has accused the state governor, Comrade Adams Oshiomhole, of wasting N306 million on Toyota Prado jeeps for the council chairmen.
Addressing journalists at the weekend in Benin, the state party chairman, Chief Dan Orbih expressed disappointment that the governor allegedly compelled 17 council chairmen to buy the jeeps at an inflated price.
"The governor brought the contractor and forced each chairman to part with
N18 million, when we all know that there is nowhere in Africa where a Toyota Prado costs up to N11 million per unit," said the party chairman.
He described the purchase as "one of the Animal Farm tendencies of the governor who, on the one hand, preaches frugality to the people, but on the other, is milking them dry."
He said, "Today, Edo State has one of the most obnoxious tax regimes in the world. People are taxed right, left and centre, but we are now seeing how they waste the money they squeeze out of tax-payers.
"It is particularly sad that, in the midst of grinding poverty, Governor Oshiomhole is buying Toyota Prado jeeps at an inflated price of N18 million.
"To begin with, why Prado jeeps? There is no law that says all the council chairmen must use the same type of vehicle. Each council has  peculiar terrain, so it doesn't make sense to force the same type of vehicle down the throats of the chairmen," he said.
Continued the PDP chairman, "For a government that professes frugality, Toyota Corolla cars should have been okay. The Prado costs less than N11 million, so we wonder where the N7 million per jeep is going?
"We demand that the difference be returned to the coffers of the councils to enable them carry out development projects," he added.