Tambuwal Seeks International Cooperation Against Oil Thieves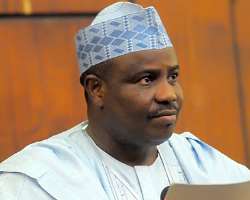 SPEAKER, HOUSE OF REPS, HON. AMINU WAZIRI TAMBUWAL
ABUJA, July 21, (THEWILL) – Speaker of the House of Representatives, Hon. Aminu Waziri Tambuwal, has called on African, Caribbean Pacific and European Union (ACP-EU) to collaborate with Nigeria and other African nations to combat illegal bunkering and piracy in the region.
He also appealed to foreign investors not to be discouraged from investing in Nigeria, saying the country was safe.
Tambuwal said this at the closing ceremony of the 10th regional meeting of ACP-EU Joint Parliamentary Assembly in Abuja at the weekend.
He said the problems of oil theft, illegal oil bunkering and piracy in the Gulf of Guinea were matters that deserved the collaboration of West African countries and the international community to tackle head-long.
The speaker solicited the cooperation of all parliaments across the world to join hands in sanctioning oil companies, local cartels and the international syndicate engaged in the nefarious act.
"The Nigerian government is trying to come to grips with the situation and some drastic measures, including the declaration of a state of emergency in the most-affected states, have been taken.
" I am pleased to note that the ACP and EU nations have shown genuine concern for the security of Nigeria. The JPA proved its support in this regard when it passed a powerful resolution at the meeting in Horsens, Denmark last year," he stated.
On the state of insecurity in the country, the speaker said Nigeria is not unsafe as being painted in certain circles.
He therefore advised investors to take advantage of the immense opportunities in the country.