Army moves to retire Al-Mustapha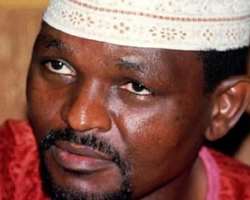 There are strong indications that the Nigeria Army headquarters is considering retiring Major Hamza Al-Mustapha, Chief Security Officer to the late Head of State, General Sani Abacha.
Following a death sentence by a High Court after 14 years in detention, a court of Appeal, last week, set free the Yobe-born Major.
The judgement of the appeal court sparked a fresh controversy over what should be Al-Mustapha's new rank, considering that most of his Regular 28 coursemates are now Major-Generals.
Military sources told Pointblanknews.com that the Army Secretary would "in the next few days" advise Al-Mustapha in writing to voluntarily retire.
Should the Major fail to comply, added the sources, "we will retire him."
Pointblanknews.com gathered that several issues, including "age on rank", and the fact that the Major has not undegone the requisite training for promotion, stand against Al-Mustapha.
"Recall that whilst serving as Abacha's CSO, Al-Mustapha couldn't be promoted Lieutenant Colonel because he didn't attend Staff College. There is no way a Major who didn't pass (Command and) Staff College would be promoted," he explained.
"Again, there is the issue of age on rank, that is, your age at a particular rank. There is no way Al-Mustapha would be a Major at this age.
Any officer who doesn't attain a particular rank after a certain age is retired. This is pure military tradition," added the source.
"It is like awarding a doctorate degree to an undergraduate who was imprisoned 14 years ago for the simply reason that all his classmates at the time now have doctorates," he stressed.
On Wednesday, the Army refuted reports that Al-Mustapha had been promoted to the rank of Brigadier-General.
In the history of the Nigerian Armed Forces, no serving personnel has been away for 14 years. Al-Mustapha's release therefore set a precedence on what to do with officers who, for reasons clearly beyond their control, embark on AWOL (absence without leave) for this long.
Contacted, Director of Army Public Relations, Brigadier-General Attahiru Ibrahim told Pointblanknews.com that the matter was being handled "administratively."
He said, "It is purely an administrative matter. The army as an institution has extant rules on its operations, so there is no need for anxiety over the matter.