GOV PETER OBI,S BIRTHDAY CELEBRATED WITH MASS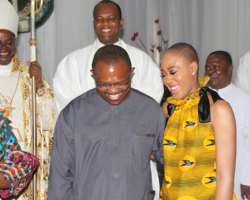 TODAY at Governor,s Lodge Amawbia ,the Governor of Anambra state celebrated his 52nd Birthday with a Mass that started at about 8.15 am.
This Birthday will be the last Birthday he will celebrate as a Governor ,that makes it a special one to remember.
It was a cheering moment as Bishop Paulinus Ezeokafor started conducting the Mass to celebrate a great leader with other Rev Fathers including Father Fabian Obi the immediate junior brother to the Governor .

Many Peace Loving Dignitaries were present including the Deputy Governor Emeka Sibedu,The SSG Oseloka Obaze,Chairman of APGA Barr Maxi Okwu and NWC OFFICIALS,Okey Ezeibe, all the Commissioners .
The Bishop said we should celebrate Gov Obi for his like comes once in a big while and pray that God will replace him with a man that will Govern like him or even better.
The Secretary to the state Government Oseloka Obaze toasted the celebrant and conducted the Cake cutting ceremony.
During Vote of thanks ,the celebrant thanked everybody and the entire state and prayed that God will give the state somebody that will Dwarf his performance ,that Anambra will be moving from Grace to grace.