General Electric Profit, Revenue Drop On Finance Unit Weakness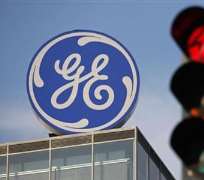 General Electric Co (GE.N) posted a decline in quarterly profit and revenue on Friday on weakness in its finance unit, but its order book rose, sending shares up 2.4 percent in early trading.
Overall profit beat expectations by a penny as the conglomerate cut costs and kept orders mostly steady for its turbines and other industrial machinery.
GE said its order book, an indicator of how much work it has received from customers, was up 4 percent globally and 20 percent in the United States, a jump that surprised investors.
"This is as close as GE comes to a positive surprise as possible," said Tim Ghriskey of Solaris Asset Management, which owns GE shares.
GE Capital's revenue fell 3 percent from the same period last year, and its earnings dropped 9 percent.
GE, the world's largest jet engine manufacturer, posted second-quarter net income of $3.69 billion, or 36 cents per share, for the second quarter, from $4.01 billion, or 38 cents per share, a year earlier.
Analysts expected earnings of 35 cents per share, according to Thomson Reuters I/B/E/S.
Revenue fell 4 percent to $35.1 billion. Analysts expected revenue of $35.56 billion.
The stock was up 2.4 percent to $24.19 in premarket trading.
REUTERS