ACN Blast Police Over Probe Of Rivers Crisis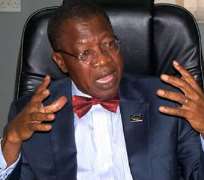 The Action Congress of Nigeria (ACN) has accused the Nigeria Police of being bias and partisan in their investigation into the Rivers State political crisis.
In a statement, Thursday, by its National Publicity Secretary, Alhaji Lai Mohammed, the party said for inviting only security Aides to Governor Chibuike Amaechi for questioning and declaring the Majority leader of the State House of Assembly wanted, the Police has shown that they are bias
Wondering why the State Police Commissioner, Mr. Joseph Mbu and the leader of the anti-Amaechi lawmaker, Mr. Evans Bipi were not invited for questioning, ACN urged the police to show impartiality in investigating the Rivers crisis.
The statement reads in part:
'As the saying goes, it takes two to tango. Definitely there are two sides to every issue, including the crisis that rocked the House of Assembly last week. It therefore amounts to a warped investigation to focus only on one side, as the police appear to be doing. This kind of investigation can only lead to jungle justice, and further erode the credibility of the police, who have now descended into the arena instead of staying above the fray.
'This is why we warned, in our earlier statement, that the police should go beyond addressing the symptoms in its efforts to unravel the role played by the security agency in the festering crisis. We hate to say that the action of the police hierarchy has vindicated us,' ACN said.