LET YAR'ADUA, REST IN PEACE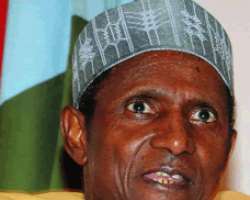 http://www.nigerianbestforum.com/blog/wp-content/uploads/2010/02/yara7.gif Now that all pretensions and claims of rapid recovery by ailing President Umaru Yar'Adua have vaporised like dew exposed to midday Sahara desert sunlight, the cabal using him as a claw to hold on to power should acknowledge reality.
A cross section of medical doctors who reacted to news of the surreptitious return of the president, wondered why he had to be literally smuggled back to the country in the dead of the night, the same way he left on November 23, 2009 to seek emergency medical care in Saudi Arabia.
Just days before the Federal Executive Council resolved to send a delegation to ascertain the status of the president, Nigeria's Ambassador to Saudi Arabia, Abdullahi Aminchi, had assured that Yar'Adua's health was improving, and even added that he had watched him exercise for 25 minutes on the Saturday preceding the FEC resolution.
Given the clandestine manner of his return, coupled with the heavy shroud of secrecy thrown over him since then, notable medical practitioners contacted by phone told Sunday Sun that these developments clearly buttress the widely held belief by the citizenry that President Yar'Adua has become incapacitated by his precarious health condition caused by Churg-Strauss Syndrome, and therefore cannot continue in office.
Commenting on implications of the fact that the president was conveyed back in an air-ambulance and subsequently transported in another ambulance to a location in Abuja, a surgeon and medical director of Joekem Clinic, Dr Emmanuel Enabulele said: 'That means he is moribund; it means that he is very, very sick. He must be very critically ill. The man is moribund. I believe the Saudis got tired and just decided to discharge him.'
Continuing, Enabulele said that strenuous effort made to shield him from view was 'a clear indication that he is not in a fit state for anybody to see him.'
He added: 'He must be very sick, emaciated and wasted. That I believe is the situation. Maybe his close family or the so-called cabal surrounding him does not want anybody to see him. Bringing somebody in an air-ambulance signifies that he must be very, very ill.'
Enabulele's voice rising in anger and frustration as he spoke on the phone, insisted that if the President was back then he must address the nation on television so that people could physically assess him and know whether he is fit to be a president.
To the cabal he said: 'They should all know that there's no playing hide-and-seek game now. We have to see him and assess his physical state. Of course we don't need to travel out to see the president, at least he is in Nigeria now. They can't say that his Saudi doctors don't want anybody see him. Those doctors can't come to Nigeria and dictate to us what should happen to the president of the country in his territory. But if we Nigerians cannot see our president then it is just unfortunate that a few people can hold us to ransom.'
Wondering why the president's close aides stridently prevent access to him, Enabulele queried: 'So if they say we cannot see him, why can he not be seen? You can't put him in Aso Rock and say nobody can see him. That is not possible. If he is back let him make a broadcast; have an interview with the Nigerian media. From then we can assess whether the man is fit and well enough to continue as president. It is a simple matter.'
Fully agreeing with Enabulele when contacted on the phone, another medical doctor and former President Olusegun Obasanjos's Senior Special Adviser on Media and Publicity, Dr Doyin Okupe rhetorically asked: 'What kind of patient is transported in an air ambulance or any ambulance for that matter. As a medical doctor, I know that the president coming via an air ambulance means unequivocally that he is sick and unfit. Air ambulance is used to carry only people whose lives can be threatened while on board and people who may require medical intervention. If he landed in an air ambulance, what it means is that he would still be taken in another ambulance to his house.
'The implication is that the person in that condition is very sick and not fit to lead the nation. The issue is no more whether Yar'Adua is here or not but that he is incapacitated and cannot function.
'Common sense dictates that since the Nigerian government sent a delegation of six Ministers with a letter from the Acting President, the Saudi authorities would see it as the government of Nigeria and would not have any choice but to send Yar'Adua, who has been there for over three months home. I believe that the main reason the Saudi government took that decision is to prevent a diplomatic row between the oil rich country and Nigeria.'
One of the reasons trumpeted by the cabal for the restriction placed on access to the ailing president while in Saudi Arabia was to prevent him from contracting opportunistic infections. Chief Medical Director of Subol Hospitals, Dr. Olayiwola Mudashiru Bello, a general practitioner in Lagos agreed with this view noting that the relapse of the president's health due to infections could have been caused by any bacteria, explaining that this could be fatal given that he had been on immunosuppressant drugs.
His words: 'Just about any bacterial infection can be responsible and be fatal. Remember any one on immunosuppressant drug is vulnerable to all sorts of infections including fungal infection. It is also noteworthy that any one with organ transplant will be on the above mentioned drugs and this will reduce the patient's resistance to all infections, which can lead to death.'
According to him the president who has significantly lost weight from about 47kg to 37 kg, is a sure sign of a debilitating disease, common in most terminal illnesses. 'A 20 per cent involuntary weight loss is a sign of a debilitating disease which is seen in most terminal illnesses and in that state he is probably not in a position to recognise anybody.
It would be recalled that in a banner headline in December, Enabulele had told Sunday Sun that Yar'Adua's condition had definitely descended into a terminal stage from which he would only recover by divine miracle. In that report, Enabulele had explained the complications that could arise in a general case when a person has Churg-Strauss Syndrome.
His words: 'Churg-Strauss Syndrome is not a common phenomenon in Nigeria. But we know that there are three stages. The first stage is where the person may be having allergies. In the second stage, the person may be having multiple organ involvement and failures (the liver, the kidney, etc.) because you have immunological basis; and the third stage is always terminal. It is described as the end stage.'