APC Inaugurates Mobilistion Committee in Abia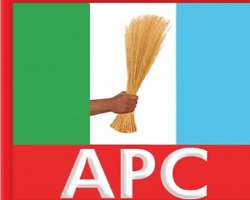 The Acting National Vice Chairman, All Progressive Congress (APC) in the South East, Chief Nyerere Anyim, has inaugurated a 21-man mobilisation committee of the yet-to-be registered political party in Abia.
Anyim inaugurated the committee in Umuahia on Wednesday at an interactive meeting of the five political parties that merged to form the APC.
The News Agency of Nigeria (NAN) reports that membership of the committee comprised four persons each from the five political parties.
Anyim said that the committee would play a pivotal role in the take-off of APC in Abia, adding that all the 17 Local Government Areas of the state would be represented.
"Why we are here is to agree that we are members of the APC and to foster the spirit of brotherhood. That is a spirit that underlies internal democracy,' he said.
Anyim said that there was no faction in the APC, adding: "all members are moving in the same direction. We are making use of a prescribed guideline in all appointments''.
Anyim said that the APC was determined to make lasting impact in Nigeria's political space.
According to him, APC has been technically registered and what we are waiting for is the certificate of registration.
Chief Stanley Ohajuruka, representing Abia in the APC caucus, described the gathering as the beginning of a new thing that would happen in the state.
"APC signifies change both in orientation and attitude and that is the type of change that we need to change things in our dear state,' Ohajuruka said.
Ohajuruka urged the people to embrace a movement that would introduce a new lease of life to them.
"We want our people to have this consciousness that they need to defend their rights as well as the sanctity of the ballot box when the time comes.
"It happened in Imo, and if we want to safeguard our future, we will have to replicate it here,' he said
NAN reports that the meeting, which was attended by party faithful from the five merger parties across the state, also had in attendance notable members of the PDP and PPA in Abia. (NAN)