N30m Largesse Tears Akwa Ibom Assembly Apart
As Members Threaten To Replicate Rivers Assembly Scenerio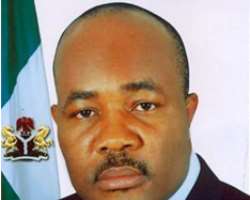 Except urgent steps are taken, the fragile peace enjoyed by the Akwa Ibom State of Assembly may soon be replaced by chaos and maladies.
Already, some of the lawmakers have promised to dust their boxing gloves, while others vowed to ensure that the chaotic scenario exhibited by the Rivers State counterparts will be child's play, compared to the Armageddon that has brewed in the state legislative chambers.
The reason for this impending show of shame according to an inside source, is unconnected with a marginal shortage in a recent largesse of N30m donated to the lawmakers by Governor Godswill Akpabio.
The said N30m, was allegedly approved for the state lawmakers during the May 29, democracy day celebration in the State.
The formular for the sharing, according to our inside source was for each member to get N1m, while the leadership of the house gets N4m.
It was learnt that, the members were bemoaned when the chairman of the Finance and Appropriation Committee of the House, Hon Onofiok Luke came and shared N500,000 each to the members, remaining just N3m for the leadership of the house, a calculation which amounted to N16m, as against the agreed N30m.
However, it was the peaceful and humble nature of Hon Onofiok that prevented his colleagues from lynching him, as he told them that the Chairman of the Finance and General Purpose Committee of the State, and Secretary to State Government, Umana Umana who pilfered the money.
The members were quick to believe Hon Onofiok, as it was not the first time the SSG has tempered with funds meant for the House members, but some of them have vowed to get to the root of the matter once and for all.
One of the members who spoke to our reporter, alleged that should the SSG be innocent, it then lay between Onofiok and Speaker Sam Ikon, the secret of the whereabout of the missing cash.
The first term lawmaker who is obviously against the governorship ambition of the Secretary to the State Government noted that, 'in fact when the House rresumes in August, we will spark a row that will not end until the remaining N14m is found, and nothing will stand our way.'
'Obong Umana should not shortchange us because of his greed and quest for power, and feel we will always succumb to his caprices', the aggrieved lawmaker enthused.