Wall Street To Open Higher After Bernanke Statement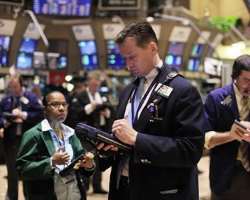 U.S. stock index futures pointed to a higher open on Wednesday, after U.S. Federal Reserve Chairman Ben Bernanke reiterated the central bank's plan to begin to scale back its bond-buying program later this year.
In prepared remarks ahead of his semiannual monetary policy report before the House of Representatives Financial Services Committee at 10:00 a.m. EDT (1400 GMT), Bernanke stayed near the timeline he first laid out last month, saying the Fed's bond-buying program would cease by mid-2014, although he stressed the plan could be subject to change.
Financial markets have been highly sensitive to speculation over when the Fed will start to wind down its bond-buying program. Comments by Bernanke and minutes from a Fed meeting in late May triggered a 6-percent drop in the S&P 500 .SPX in the month that followed.
But statements from Bernanke and Fed officials in recent weeks have placated investors and erased those declines, with the S&P rallying to fresh record highs on Monday.
"It's probably a fair assessment of the situation and it's probably what the average investor expected," said Jack Ablin, chief investment officer at BMO Private Bank in Chicago.
"We had a few communication mishaps earlier in the summer and my view is he just wanted to eliminate all doubt - clarity is good."
Later in the session at 2:00 p.m. (1800 GMT), the Fed will release its Beige Book of regional economic conditions.
Bank of America Corp (BAC.N) gained 1.2 percent to $14.08 in premarket trade after the second-biggest U.S. bank by assets reported a 70 percent jump in second-quarter profit, due to higher revenue from equities sales and trading and a drop in expenses.
The pace of corporate earnings season continues to pick up, with reports expected from American Express Co (AXP.N), eBay Inc (EBAY.O), IBM (IBM.N) and Intel Corp (INTC.O).
S&P 500 futures rose 4.5 points and were above fair value, a formula that evaluates pricing by taking into account interest rates, dividends and time to expiration on the contract. Dow Jones industrial average futures gained 18 point, and Nasdaq 100 futures added 7.25 points.
Economic data showed housing starts dropped 9.9 percent to a seasonally adjusted annual rate of 836,000 units, the lowest level since August last year and below the 959,000 forecast.
American Express fell 4.1 percent to $75.10 before the opening bell after the European Commission said it would propose a limit of 0.2 percent and 0.3 percent on the fees that banks charge to process debit card and credit card transactions. Visa Inc (V.N) dipped 0.9 percent to $187.77 and MasterCard Inc .MA.N shed 1.5 percent to $581.
Analysts expect S&P 500 companies' second-quarter earnings to have grown 3 percent from a year earlier, with revenue up 1.5 percent, according to data from Thomson Reuters.
Of the 36 companies in the S&P 500 that have reported results through Tuesday morning, 63.9 percent beat analysts' expectations, and 55.6 percent surpassed revenue estimates.
Mattel Inc (MAT.O) dropped 7.8 percent to $42.70 in premarket after the world's largest toymaker reported a weaker-than-expected 23 percent drop in profit as Barbie sales fell for the fourth straight quarter.
BNY Mellon Corp (BK.N) said second-quarter revenue and profit surged on a $184 million pre-tax gain from an equity investment.
REUTERS