Umana Okon Umana and Godswill Akpabio Playing the Game of Cat and Mouse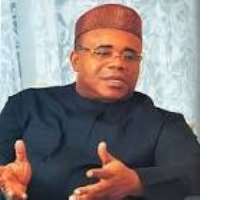 Umana Okon Umana has been in the service of Akwa Ibom State Government longer than anyone else who had served in similar positions. At least since 1999, Umana Okon Umana has been a Director of Budget, Permanent Secretary (MOF), Commissioner (MOF), and since 2007, when Godswill Akpabio was sworn in as the governor, Umana Okon Umana has been serving as the Secretary to the Government. Come 2015, Umana Okon Umana wants to succeed Godswill Akpabio as the next governor of Akwa Ibom State.
The problem is Godswill Akpabio does not want Umana to succeed him. And the problem is compounded further by the fact that Umana himself has refused to acknowledge the handwriting with visible signs on the wall that Akpabio does not want him.
Anyone else, who would not be as blinded as Umana Okon Umana is in his quest to be a governor, would have easily deciphered the signs on the wall. Another reason why Umana is blind to the moves made by Akpabio to get rid of him is the tons of sycophants and greedy indigenes that surround him on a daily basis looking for his money and deceiving him into believing that he is the Messiah, who is ordained by God, to take the people of Akwa Ibom State to the promised land. Maybe Umana is really the Messiah, but the way things are moving, just as it happened to Moses in the Bible, he may not get to the promise land with the people.
Very few people know why Godswill Akpabio does not want Umana Okon Umana to succeed him, but speculations abound. Part of the reasons for the speculations is that in public, Akpabio makes it look as if Umana is the only person in a state of nearly five million people who is qualified to be a governor, while in private; he is constantly discussing and frequently scratching his head in frustration over his inability to get rid of Umana.
In fairness to Godswill Akpabio, he has made several attempts, by using a subtle approach, to give Umana what in Nigerian political parlance is called 'soft landing.' But Umana has rebuffed such moves.
The first attempt crafted by Akpabio to give Umana an honorable exit was a discussion for him (Umana) to be appointed by President Jonathan as an Ambassador. Umana rejected the suggestion--out right; Asam Ekanem Asam (now the Nigerian Ambassador to Russia), who was then Akpabio's Attorney General, replaced Umana.
The second known attempt was at a meeting in which Akpabio had arranged with President Jonathan for Umana to hear it directly from the president that Akwa Ibom State has already been zoned to Eket Senatorial District, therefore, Umana can contest if he wants to, but PDP will never endorse him. Again, Umana ignored the warning, returned to his comfort zone at Uyo and covertly continue his campaign for governorship.
The latest known attempt is Umana's refusal to accept an offer of appointment as the Managing Director of Niger Delta Development Corporation, or NDDC. Though the story is true, Umana' supporters, who are more interested in what they would get if Umana becomes a governor than his political future, have consistently tried to deceive the people that the story is false. The funny thing is that Umana himself is not talking. Meanwhile, Godswill Akpabio is planning, scheming, and scratching his head in frustration.
Knowledgeable indigenes are also scratching their heads and worried about the final outcome to the cat and mouse game played by Akpabio and Umana. Both of them have damning information against one another. Akpabio knows what happens to the Pension Fund Account entrusted in the hands of his Secretary to the Government. Umana, too, knows about all the spooky manners with which Akpabio has deployed and is still deploying to steal and launder money from the people's treasury. As such, neither man wants to make the wrong moves that may end up with someone pressing the wrong switch.
The question now is who will win and who will lose? Sources say at the end, Akpabio will find a way to get rid of Umana Okon Umana, no matter what. The question is when, not if. According to one analyst, 'the only way Umana will be able to fight back is if he can know ahead of time when Akpabio is ready to strike at him. My hunch tells me that Akpabio will strike Umana at the last moment. As for what approach he will use, no one really knows'
As the two greedy thieves fight, the real losers are the Akwa Ibom people who, on a daily basis, go to bed hungry and wake up the next day, still hungry.
IMAGE (1)
IMAGE
Disclaimer:

"The views/contents expressed in this article are the sole responsibility of the author(s) and do not necessarily reflect those of The Nigerian Voice. The Nigerian Voice will not be responsible or liable for any inaccurate or incorrect statements contained in this article."