Al-Mustapha Wont Be Promoted Brigadier-General, Says Army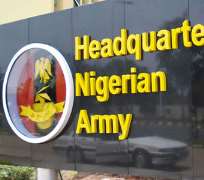 SAN FRANCISCO, July 16, (THEWILL) – The Nigerian Army has denied reports in a section of the online media (not THEWILL) that Major Hamza Al-Mustapha, the Chief Security Officer (CSO) to former military dictator, General Sani Abacha, would be promoted and decorated with the rank of a Brigadier-General.
The Army Director of Public Relations, Brigadier-General Ibrahim Attahiru, made the clarification in a statement.
"The attention of the Nigerian Army has been drawn to an erroneous publication being circulated on the Internet about the decoration of the former Chief Security Officer to the late Head of State, Gen. Sani Abacha, Major Al-Mustapha with the rank of Brigadier-General following his recent acquittal by the court.
"The Nigerian Army wishes to advise the media to always cross check facts before going to the press to avoid misinformation, misrepresentation, and sensationalism in its reportage," the Director said.
The Army had on Monday confirmed that Al-Mustapha, who was acquitted in the murder trial of Kudirat Abiola, was still enlisted as an officer in the army. The confirmation fueled the speculation of his promotion.
The Chief of Staff to the Director of Army Public relations, Colonel John Agim, who represented the Director, said the Army would review Al-Mustapha's case administratively in line with military regulations. 


"With regards to Mustapha's release, well, I want to confirm that he is still in the army. The case is going to be handled by the army administratively in line with the harmonised terms and conditions of service,'' he said.