House Defers Consideration Of Constitution Review To Wednesday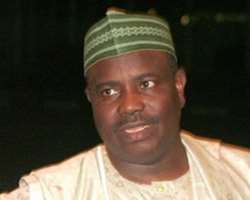 SPEAKER, HOUSE OF REPS, AMINU WAZIRI TAMBUWAL
ABUJA, July 16, (THEWILL) – The House of Representatives, Tuesday, deferred the clause-by-clause consideration of its report on the review of the 1999 Constitution till Wednesday. All activities in the House are to be suspended for one week for the exercise.
The Speaker, Aminu Waziri Tambuwal, who announced this at plenary also clarified that the House was not targeting any political office holder in the country.
"I want to remind Nigerians that what we have done in the House of Representatives and the resolution we have before us is not the personal opinion but the aggregate opinion from our constituents on all the issues.
"Individually, we don't have any issues whatsoever against any political office holder in this country .
"Let me once again say that what we have before us is not our opinion but the aggregate of all opinions from our constituencies. Whether individual or collective, we do not have any issues against any politicians in the country, but we only aim to strengthen democracy.
The Constitution has proscribed the procedure for amendment and we can't go outside it. The Constitution did not prescribe a referendum. As issues are raised, we as members that facilitated the people's public session, we have no power over the decision of the people.
"My charge is that we proceed with the wishes of the people. I charge us, when it's time to vote to come with the result ,we should not vote against the wishes of our people," he said.
The deputy speaker and chairman of the ad hoc committee on the review of the constitution, Hon. Emeka Ihedioha was thereafter called upon to read the synopsis of the report.