Const. Amendment: Senate Strikes Down Single Tenure, LG Autonomy Provisions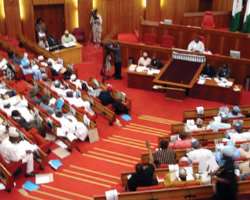 SAN FRANCISCO, July 16, (THEWILL) – The Senate Tuesday afternoon voted against the inclusion of a single term tenure for President and Governors as the National Assembly moves closer to amending the 1999 Constitution of the Federal Republic.
The Senate also voted against granting autonomy to Local Government Areas in the federation.
Details soon.