EFCC: Tambuwal Seeks Proper Management Of Seized Assets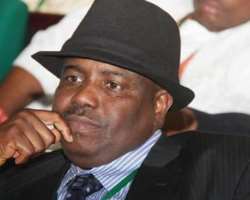 SPEAKER OF HOUSE OF REPS, HON. AMINU WAZIRI TAMBUWAL
...Says 200 mansions, 400 cars seized since 2003
ABUJA, July 15, (THEWILL) – The Speaker of the House of Representatives, Hon. Aminu Waziri Tambuwal, Monday, disclosed that the Economic and Financial Crimes Commission, EFCC, has since inception in 2003 confiscated 200 mansions, over 400 cars and other properties worth over N2 trillion from suspected offenders.
He however called for a proper management and account of the confiscated assets.
This came as the chairman of the National Drug Law Enforcement Agency (NDLEA), Mallam Ahmadu Giade, said the agency transferred over N90 billion cash and 70 cases to the EFCC between 2006 to date for prosecution.
Tambuwal, who was represented by the Deputy House Leader, Hon. Leo Ogor, said this while declaring open a three-day public hearing, on the status of all assets seized and recovered by the EFCC since inception, organised by the House Committee on Drugs, Narcotics and Other Institutions.
He said the House decided to investigate the seizures because there were reports that some of these assets and properties could be accounted for.
"I have learnt that between 2003 and now, the Economic and Financial Crimes Commission (EFCC) has confiscated over 200 mansions and large sums of money through 46 forfeiture court orders. These landed property, monies, and business concerns, which were estimated to be worth in excess of two trillion naira, included bank accounts, shares in blue chip companies, exotic vehicles, fuel stations, holdings, warehouses, and shopping malls.
"We have reports that some of these properties have fallen into disrepair and that some cannot even be accounted for. Indeed, the status of these assets and the lack of clarity about their use while in litigation are part of the reasons why we are holding this hearing ," he said.
In his presentation at the public hearing, chairman of the Nigerian Drug Law Enforcement Agency, NDLEA, Ahmadu Giade, disclosed that between 2006 and 2013, the agency agency transferred N27.822 million, $2.822 million US Dollars, 20, 300 British pounds and 11,261 Euro to the EFCC.
According to him, the NDLEA also handed over to the EFCC 33,000 Korean won, 7.124 million fake US dollars, 93 million CFA, and 948,487 fake pounds.
Earlier, chairman of the committee, Hon. Jagaba Adams Jagaba, expressed dismay at the poor response of invited stakeholders to the public hearing but summoned the EFCC chairman, Mallam Ibrahim Lamorde, to appear before the public hearing on Wednesday unfailingly.
Lamorde had sent a letter of apology pleading for another day to make his presentation since he was out of Abuja on official assignment.
Similarly, the managing director of the Assets Management Company of Nigeria (AMCON), Mustapha Chike-Obi, is to appear on Tuesday. Also invited by the committee is the pioneer chairman, Mallam Nuhu Ribadu, Mrs. Farida Waziri and former secretary, Emmanuel Akomaye.