Boko Haram: JTF Uncovers Mass Grave In Borno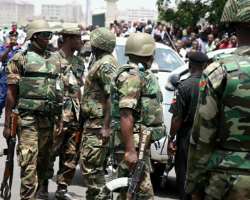 SAN FRANCISCO, July 14, (THEWILL) – A mass grave operated by the Boko Haram insurgents has been uncovered by the Joint Task Force (JTF) in Borno State, Operation Restore Order, in Maiduguri, the state capital.
The mass grave with many decomposing bodies, where many of the Boko Haram members who were killed in battle as well as their victims were buried, was uncovered in the stronghold of the insurgents in Maiduguri.
The grave was also used to hide the weapons used by the insurgents.
A statement signed by the JTF spokesman, Lt. Col. Sagir Musa, said the mass grave was uncovered following the sacking of the insurgents from their stronghold in Nganaram, Aljajeri and Faluja wards in Maiduguri between July 3 and 8.
"During the encounter, some terrorists were killed in the fire fight including the main Amir of Bulabulin Nganaram (who was on the wanted list of the JTF with a N10 million naira bounty).
"He (the Amir) was responsible for the killing of a teacher and three students of Sanda Karami Secondary School, Ruwan Zafi, Maiduguri .
"Many abducted women , girls and children were rescued (during the fire fight) and handed over to their families by the Task Force.
"During the search of the areas, many arms and ammunition of various calibre buried in houses and cemeteries were recovered. Decomposing corpses of those killed by the terrorists were also found in soak-away and mass graves of terrorists killed and taken away by them. "Troops also discovered vast network mouse-holes linking compounds and underground tunnels as well as bunkers under houses .
"Troops are still searching the area for more weapons, ammunition and mass graves ," JTF said in the statement.
While soliciting for more support and information from the member of the public on the activities of the insurgents, JTF said the fight against Boko Haram can not be left to the security agencies alone.