Dickson No Junketer, says Bayelsa government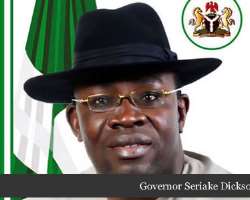 Bayelsa State government has denied claims that Governor Seriake Dickson Is a junketer, saying the governor has raised the bar of good governance in the state.
Speaking to Pointblanknews.com, Dickson's Chief Press Secretary, Mr.
Daniel Markson-Iworison said the allegations of junketting were made by critics of the government "and mischief makers for want of something to say."
The CPS said such allegations weren't new, and challenged those making the allegations to supply proof of such claims.
"This is not the first time such a report is being peddled. Those behind it are doing it out of pure mischief. And we know them. To them everything is politics even when it is so glaring that the government of the day is woking round the clock and changing the face of Bayelsa State," he said.
"This same Governor that they falsely accuse of spending more time out of the state works harder than everyone,  even to the detriment of his own health,' he added.
The media aide explained that even though trips were an integral part of government, Dickson has taken care to ensure that his trips, apart from being part of state functions, add value to Bayelsa State.
"Those trips are themselves part of governance. In the first place, we are lucky to have a Governor who doesn't like travelling. Each of the Governor's trip so far are official trips and we can count the number of times he has embarked on such trips since assuming office.
"The mischief makers typically blow things out of proportion and their aim is to distract the governor. We realised this from our first day in office and therefore cannot fall for such antics," he declared.