EFCC Loses Bid To Seize Sylva's Property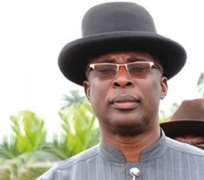 SAN FRANCISCO, July 11, (THEWILL) – The request by the Economic and Financial Crimes Commission (EFCC) to seize properties allegedly belonging to former governor of Bayelsa State, Timipre Sylva, was turned down on Thursday by a Federal High Court sitting in Abuja .
Presiding judge, Justice A.R. Mohammed, who turned down the request on the ground that it amounted to an abuse of court process, however ordered EFCC to put the former governor on notice.

EFCC, in 2012, had in an originating summon, filed an exparte for a temporary order of forfeiture of the property.
But after taking arguments of counsel for EFCC, John Anaeto, and Sylva's counsel, Benson Ibezim, the court reserved its decision till Thursday.
In his ruling on Thursday, Justice Mohammed held that it ran totally against the court process for EFCC to bring about an action before him, which was related to a charge before a sister court for which the former governor was standing trial.
Specifically, even though EFCC has brought a criminal action against Sylva at Court 3 of the Federal High Court, Abuja Division presided over by Justice Adamu Bello, the commission proceeded with a civil action before another court, where it sought to take-over the same properties it listed in the charge preferred against the former governor in the criminal case.
In dismissing EFCC's request therefore, Justice Mohammed said: "It would appear that EFCC is instituting a multiplicity of suit against the accused. This court cannot allow any process that amounts to an abuse and it is hereby dismissed."
On January 4, when it was reported that EFCC had obtained an order of forfeiture of 48 property allegedly belonging to the former governor, the former governor had responded in a statement by his media adviser, Mr. Doifie Ola, that the Abuja High Court never granted any temporary asset forfeiture order to the EFCC, a claim which had been vindicated by the verdict of Justice Mohammed.
In the statement, Ola said out of the 48 property, only three belonged to Sylva . He also noted that the said three were acquired by the former governor long before he became governor of Bayelsa State.
"Our attention has been drawn to a statement purportedly issued by the Economic and Financial Crimes Commission, EFCC, announcing the seizure of a number of property alleged to be owned by Chief Timipre Sylva, former Bayelsa State governor.
"The claims by EFCC are completely misleading. Not surprising, this style is in line with EFCC's known bully-boy tactics and media hysteria. The houses in question do not belong to Sylva.
"Sylva's property are intact, and fully covered by the order validly issued by Justice M. Kolo of the Abuja High Court on December 27, 2012. Sylva had applied to the court for "an interim order of court for the service of the originating process on the respondent to serve as a stay of all actions in respect of the property – plot no 262, Cadastral Zone A02, Wuse 1, District, Abuja, plot 3192, located within Cadastral zone A06 Maitama District, Abuja, plot 232, Cadastral Zone A07,(No. 8 Mistrata Street; Wuse II, Abuja) – by the respondents, their agents, privies, representative or any other person deriving his/her authority from them; either by sealing off, confiscating, ejecting any person from the property, trespassing into the property or doing any other thing how ever so described relating to the said property pending the hearing and determination of the motion on notice."
" This application was granted and hearing in the matter is fixed for January 4, 2013.
"Justice A. Mohammed never granted any temporary asset forfeiture order to EFCC on December 21, 2012.
Rather he directed EFCC to put Sylva on notice and the substantive matter is fixed for January 10, 2013. EFCC as a creation of the law cannot be seen to be acting lawlessly and with impunity," the statement had read.