ACN Behind Rivers Crisis...... Says Lagos PDP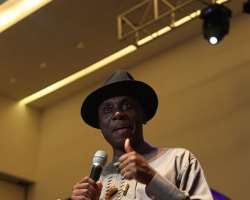 Rt. Hon Chibuike Rotimi Amaechi, Rivers State Governor
The Lagos State PDP has described the reaction of the Lagos ACN to the recent happenings in the Rivers State House of Assembly as Alarmist, hypocritical and in bad faith.
The party opines that the Lagos ACN has deliberately tolled the line in an attempt to blackmail PDP as anarchist when in actual fact it is the incursion of ACN into the Rivers State Politics that is the immediate cause of the new wave of politics in the State.
The Party's position is supported by her observation that it is the trademark of ACN to instigate, forment or exaggerate crisis in the State that they are interested in winning. It said this was noticed in the Cases of Oshun, Edo, Ondo and Ekiti states in which many lives and property were lost. A trend that continued until after the ACN "captured" the States, except Ondo state.
"An Alarmist Party who indeed are themselves worse in character and should remember that he who lives in a glass house should not throw stone. They really need more education in this game"
Coming back home, the lagos PDP is quick to remind the Lagos ACN leadership of the Physical attacks on Hon Risikat Adegeye on the floor of the State House of Assembly; The attack on Hon. Kazeem Adeyinka, Leader of Oshodi Local Government legislative Council and the Councillors attack on Hon. Tajudeen Ajide, Chairman Surulere Local Government, to mention a few.
It wondered why the Lagos ACN did not 'fish out' its members who participated in the attacks if indeed it is not an aider and abeter of anarchist. It thus submits that the Lagos ACN is only attempting to play kindergarten politics out of the Present situation in Rivers State.
The lagos PDP says that the ACN is indeed the biggest threat to our Democracy!
"The over ambitious attempt by ACN to win the presidency is the root Cause of the recent bad politics within the NGF and some States in the federation. We are warning that unless nigerians rise up to condemn ACN style of Agent provocateur, the 2015 presidential election is threatened".
Meanwhile the Lagos PDP has admonished members of the Party to stay away from acting 'Fifth Columnist' in the Party while also calling upon the National leadership of its Party to bring all those who are directly or indirectly involved in the scuffle to book even If they have to be expelled. This is expedient now than ever before to restore confidence in the people.
Signed:
TAOFIK GANI
Lagos PDP