N625m bribe: Court dismisses Lawan`s application for stay of proceedings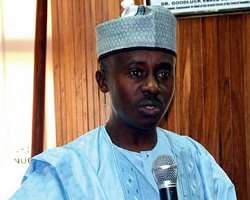 An Abuja High Court on Wednesday dismissed an application filed by Farouk Lawan, seeking for a stay of proceedings, pending the determination of a case he filed in the Court of Appeal.
Justice Mudashiru Oniyangi, in dismissing the application for stay, held that granting such an application would delay trial.
Lawan is standing trial, alongside Boniface Emenalo, on a seven-count charge of allegedly obtaining N625 million bribe from oil magnate, Chief Femi Otedola, the Chairman of Zenon Oil and Gas Ltd.
Lawan, is challenging Oniyangi's ruling which he delivered on May 10, in which the court held that he had a case to answer in the alleged bribery charge preferred against him.
In his ruling on Wednesday, the judge held that the court had power to exercise its discretion, which must be done within the ambit of the law.
"I am considering the fact that granting a stay of proceedings, in my view, will delay the trial, and in a criminal trial, time is important,"
he said.
The judge held that filing an appeal, does not automatically translate to warranting a stay of proceedings.
Oniyangi, therefore, dismissed the application for a stay in proceedings, and ordered that the trial continue.
He adjourned hearing in the case to Oct. 23. (NAN)
NAN recalls that in the application for stay in proceedings, counsel to Lawan, Mr Rickey Tarfa (SAN), told the court that his client was challenging the ruling of the court, which held that he had a case to answer in charges contained in file No. FCT/HC/CR/76/2013.
He said the motion was brought on the grounds that the court lacked jurisdiction to hear and determine the charges.
Tarfa said the appeal was not intended to delay the proceedings of the court, but to determine the innocence of the accused.
He said the issue for determination was whether the court could exercise its discretion considering the material placed before it.
Tarfa further said that the application for stay of proceedings "is one that the court can exercise its discretion judiciously, based on the material placed before it.
Opposing the application, EFCC counsel Adeboyega Awomolo (SAN) said the motion for stay of proceedings was "frivolous, an abuse of court process and an attempt to stall the trial".
Awomolo, therefore, urged the court to dismiss the application.
"My lord, we oppose the motion on the grounds that the application failed to show any special circumstances to grant a stay of proceedings.
"It is the court that can exercise its discretion to grant the application.
"My lord, the grounds of their appeal did not raise any point of law or the provision of the constitution,' Awomolo said, and urged the court to refuse the application. (NAN)