Kogi Governorship: Again, Appeal Court Affirms Wada's Victory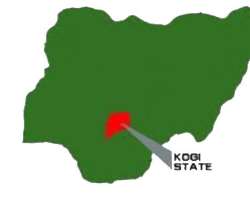 SAN FRANCISCO, July 10, (THEWILL) – The victory of the Kogi State governor, Captain Ibrahim Wada (rtd) in the last governorship election in the state was on Wednesday again affirmed by the Court of Appeal sitting in Abuja which dismissed an appeal filed by the candidate of the Congress for Progressive Change (CPC) in that election, James Ocholi (SAN), challenging Wada's election.
The Appeal Court had earlier affirmed Wada's election in an appeal filed by a member of the Peoples Democratic Party (PDP), Jilbrin Isah.
And on Wednesday, the Appeal Court, again, in a unanimous judgment delivered by Justice I.T.A. George-Mbama, also dismissed a similar appeal filed by the All Nigerian People Party (ANPP) as it ruled that the issues raised in the two appeals were electoral matters that should have been taken to the electoral tribunal for adjudication.
Justice George-Mbama, who held that the High Court was right in dismissing the suit and consequently upheld the earlier ruling of the lower court, had chastised the two appellants for filing two separate appeals even though they jointly filed the case as plaintiffs before the High Court.
Advising lawyers and parties to avoid filing separate appeals which could overburden the court when they could have filed only one appeal, the Appeal Court said: "The second appeal is similar to the one earlier decided. The parties are the same. At the lower court, they were together. They have similar interest. They still have the same interest even in the appeal. It is therefore surprising to see them file different appeals. This is an unwholesome practice as it had overburdened the court."
He added that "The mere fact that a federal agency is a party does not make it a case for a federal high court," saying " It is the issue in dispute and the law that determine jurisdiction."

According to Justice George-Mbama, instead of filing their petitions before the tribunal, they waited for Wada to be sworn in and then went to the Federal High Court to challenge his election.
Noting that since the two appeals were challenging the election of Wada and his qualification to contest the governorship election in Kogi State, the court said this could only be done at the election tribunal and not the Federal High Court.
He cited sections 285 (2) of the constitution which provides that an election can only be quashed by an election tribunal.
He also cited Section 138 of Electoral Act which states the ground upon which an election can be questioned.
"Where a court lacks the competence to determine a matter, an appellate court will uphold the decision of the High Court declining jurisdiction.
"We hold that the trial court was right in holding that it lacked jurisdiction," he said.